How To Increase Organic Traffic To Your Website
---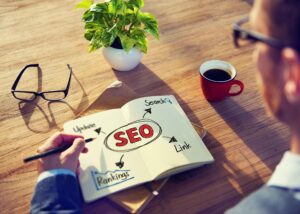 What can you do to get more organic traffic?
How to optimize your website in the eyes of search engines spiders?
In this article, we will suggest some of the best things to do for getting better rank and more traffic.
Organic Traffic
You get organic traffic to your website if people find it through an online search using search Engines (in short, SE).
Google, Yahoo and Bing and Youtube now give the largest search Engines services on the web, with nearly two-thirds of all online searches coming from google. To increase the changes of getting organic traffic, you need to have high rank for a specific keyword. Statics shows that 60% of all clicks goes to the first 3 top search results.
Organic Search
Most search Engines offer two types of search results to users: paid results (typically show on top or side) and organic or natural results. The disadvantages of Paid results is that you need to pay for them and that most users consider them to be a little better than advertising and will often skip them in favor of natural or organic search results. The advantage is to get your web site rank higher for a specific keyword and to get clicks on your ad leading to your landpage. Organic search is one that generates results that came from you ranking on SE and not from
paid advertisement. People feel more comfortable with these results as they are generated by popularity and common usage and are to tend to be less biased.
Best Practices how to increase organic traffic to a website
We all want to get as much as possible natural traffic to our websites that comes from users and search engines for our product, service or webpage. There are many things you can do to boost organic traffic and to improve SEO (search engine optimization).
Write a Blog
Guest Blogging
Social media networks
Create new and fresh content
Use long tail keywords
Mark keywords don't stuff
Including multimedia in your content
Image Alt and Title
Meta Tags
Get incoming links
Make internal links
YouTube Video
Improve your website speed
Make your content long enough
Using Schema markup
Research Your Traffic
What Not do Do
Write a Blog
This should be your first choice to increase your organic site traffic and maybe the most effective one.
Blog is great way to create and spread your content. This is what search engines (SE) like google likes and it will help you to get rank fast. Your writing should be with meaning and information related to your niche and audience, something that can really help people. Poor and spammy writing or deliberated writing, like trying to push keywords will not help you, on the contrary, it can heart you, so please avoid this.
Read Blog traffic tips and 21 Tactics to Increase Blog Traffic.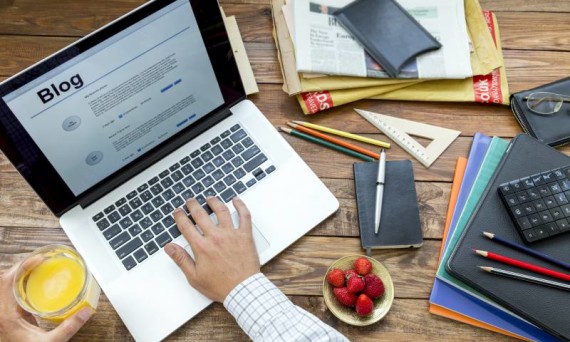 Guest Blogging
Previously we talked about writing content for your own website, guest blogging is about creating and offering content to other websites. What you're giving will be a well writing post to a major and influence sites or top-level blogs in your industry. What you can get is priceless, backlink from authoritative sites pointing to your site, Increase brand awareness for your name thus building more authority in your industry, referral traffic that is coming from the content you contribute. Here you can find a list of Guest Blogs which accept Guest Posts along with their PageRank, Mozrank and Alexa rank.
Social media networks
Another great way to get free and fast traffic is using Social media networks. Try to open accounts at some of the most important ones like: Google+, LinkedIn, Twitter, Facebook, Instagram, reddit. Engage and activate people by promoting your webpage or product, create viral content and let people to start know who you are and what you do. When you make a post, remember to put a link to your page and you'll get free backlink from high authority site pointing to your website. (no follow link, but still good one).
If it requires too much from you, find people who can open,manage and make posts on social accounts for you, there are few good ones in fiverr who does it.
Google is now paying attention to social and gives a bigger weight for social media signals in his ranking.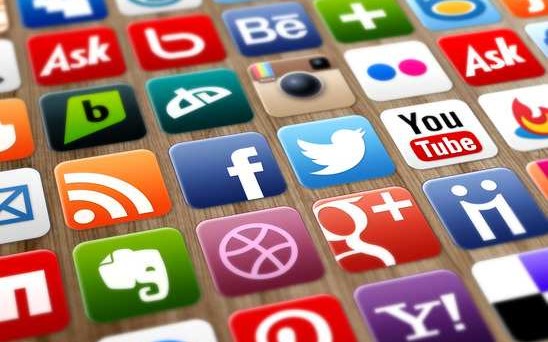 Think of Adding social share buttons to your pages. If you use WordPress, there are some free Plugins you can use like: AddThis Sharing Buttons, Social Media Feather, Cunjo, and more. Alternatively, you can use embed code to create share buttons.
Ways to make your social media better
Create new and fresh content
Strive to write quality content with value to your readers, as people are looking for this kind of content, it will bring organic traffic to your door naturally. Search engines as people, love frequently updated and fresh content. The logic is simple, if you update your site on regular basis, it shows activity and potential for contributing to people and as consequence, search engines will crawl more your website and will reward you for that in the search results. As always, prefer good content and not spam or poor writing. The more often you write is better, at least 2 or 3 times a week may be optimal, but not many people have the time for this. You can hire a professional blogger for your web site, host guest blogs or buy articles, but be aware and check what quality you get.
Use the bonus that fresh content gets from Google, for what is known as google Caffeine effect.
New content will get higher score (relativity) than other not update content ,but these credit points will gradually disappear as time pass until all caffeine is gone.
Use long tail keywords
These days when the market is big and competitive, using short keywords might not be the right choice. Trying to target these keywords can be hard, as many other strong players and your competitors are using them and for ones with high competition you will find many pay per click ads in the search page. For new websites, this can be the biggest error, because of their low rank compare to most of their competitors, they will probably not get much traffic from these keywords anyway.
What you should do is to use long tail keywords for your products and in your pages to get most of your traffic from them.
Long tail keywords consist from 3 to 4+ word phrases that are specific to your product or page.
Begin by making keyword research and find a list of words with low competition. Then select the best long tail keywords from the list and make on page optimization for them.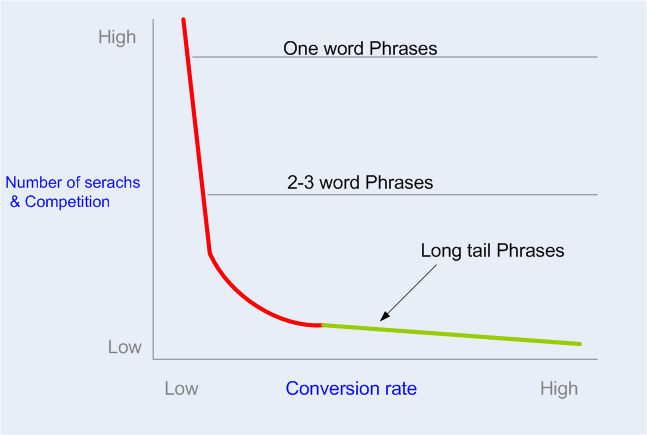 The graph shows that the "head" words in the left side, has much higher number of searches , but also with high competition. Use words in the "tail" to get better ranking chances and higher conversion rates.
As users become more educated over time, we can see that long tailed keywords are getting more of the search results volume. read How to research long-tail keywords and to get more Visitors Through Long-Tail Search. remember, the main reason you should do that is not to draw visitors or to manipulate search engines, but to give good value and useful content for your website users.
Update:
One of my readers asked me about long tailed keywords- are they dead ? (see comments)
After searching a bit, I found this post called: Long Tail Google SEO Is Dead But Long Tail Searches Live On
What it says is around 15% of all Google's queries are new and never seen before by Google.
I understand the point that you can't predict exactly what users will look for.
But, still in the wide sense, long tailed keywords do live.
If you can't target short and competitive ones, use longer keywords- it may be your only chance.
The smartest thing would be to write about something as wide and deep as you can covering it from all angles.
It will give you much more context value, more depth, better for users and include more keywords.
Mark keywords don't stuff
After you have a list of keywords, start using them on your homepage and other pages. If you want to highlight important keywords, use the Html heading tags H1-H6.Avoid skipping some levels like, from H1 to H4, it can cause problems if converting your page to another format.
Try to use only one H1 Element on any page, because Google has recommended this in the past and also Bing webmaster SEO Reports will warn you If you have more than one H1 tag.
If you need to mark more words, make them bold or use other heading tags from H2-H6. Repeating the same words many times, what is called keywords stuffing, will not help you much, it can even heart you if the SE think that the page is spam. No need to repeat words more than few times, Google and other SE are smart enough and will get the idea for what your page is about. Also don't try to the other thing of limiting your words count, just be natural.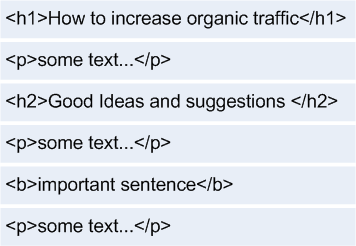 This is an example of how you can use the H1-H6 HTML tags properly in your page. It includes one H1, sub tags and bold.
Including multimedia in your content
Including multimedia like: photos, diagrams, videos, presentations, etc. will not improve your rank directly, It is related to the user experience.
The human brain is capable of processing visuals much faster and easily.
Images,videos and infographics can leave good impression and deliver your message quickly.
Content with relevant images gets 94% more views than content without relevant images!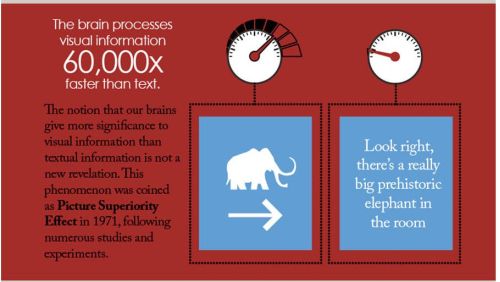 source: mammothinfographics
Image Alt and Title
The image alt attribute specifies an alternate text for an image, if the image cannot be displayed, this can be due to slow internet connection or browser issues.
The image title attribute gives advisory information for the image.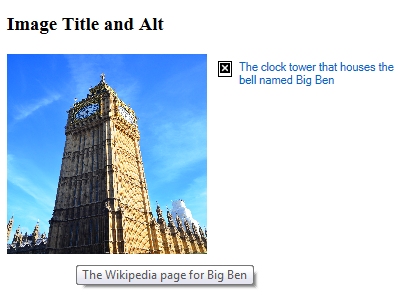 On the left you can see an image that loads correctly and the title when I mouse over it. On the right this is what it looks when the image not loads, the alt alt text will appear to show the user information of what's supposed to be there.
Try to use different description for alt text and image title, make them even with slight variation and not the same. Again, this is not something for boosting organic rankings, but for providing a better user experience.
The Alt can help to rank in the image searches like any other page. Therefore inbound links for images also count here.
It can be another source for you to gain organic traffic from, if your image appears among the top results in the images search.
Because of that, never leave Alt tag empty! put some short description into it.
Meta Tags
The most important Meta tags to use are the Title and Description.
The Title is the most important tag on the page for search engines. This tag provides a short description of the page. Google displays page title with Arial font face, 18 pixels inside a div tag of 512 pixels. How is that translated into characters length? In most cases the title tag should never be more than 80 characters long, 55-70 characters length are fine. There are also free Ttitle checkers available.
Best tactics suggest combining your brand name with product or service you offer in your title.
The SE will give most weight to words in the start of title rather than in the end.
The description Meta tag is used in search results to show a brief snippet of your website. It doesn't affect your search rankings, but can help you to get more clicks and improve your CTR (click-through rate).
The Keywords Meta Tag is one that you should avoid. Because google and other search engines likes yahoo are not using it any more for ranking. That's because of the keywords stuffing that people used to put in this Meta tag in the early days of internet marketing. These days it is mean less and better not to use.

Part of Amzon.com html source code showing title and Description meta tag. You can see the use of the keywords meta tag, that has no real SEO value. The reason can be that search engines show Meta tags in their search results and thus it is more related to CTR.
Get incoming links
Incoming links also called inbound links, inward links, inlinks or backlinks are one the most effecting ranking factors.
An inbound link is a link coming from another site to your own website.
Google gives high weight to this factor, especially for links coming from high authority and trusty sites.
Try to get such high and quality backlinks that are related to your industry as Google also check the backlinks relevancy to your page.
Make internal links
When it comes to ranking as Google states, it is all about user experience. After building your content and once you have enough blog posts, you should offer content that is more relevant to your audience.
Adding internal links and making it easy to navigate effects ranking and traffic coming from search engines. Try to add few internal links in your posts and pages, but not too many that it will not look like a spam.
YouTube Video
YouTube is one of the strongest domains that exist with potential to millions of viewers. According to hubspot YouTube has become the 2nd Largest Search Engine – bigger than Bing, Yahoo, Ask & AOL combined!
Making a video about your product or webpage is great idea and you will achieve at least two things: promoting your content among many potential YouTube users and getting high authority backlink from one of earth's strongest domain.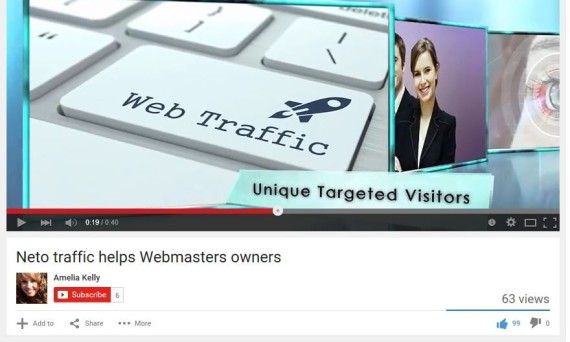 We put our website video on YouTube, utilizing a page with some rank and not making a new one.
It helps to gain more valuable backlink.
Improve your website speed
Google thinks that site speed is important and why is that? Because Site speed Improves User Experience. Make sure your page loads fast enough and that you don't have other issues with speed.
To check your status, go to google PageSpeed Insights to get analysis and score for your page.
Pay attention not only to desktop, but to mobile speed factors as google is considering this also.
Desktop speed results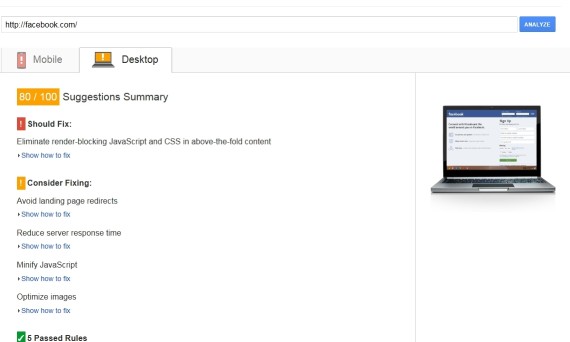 Mobile speed results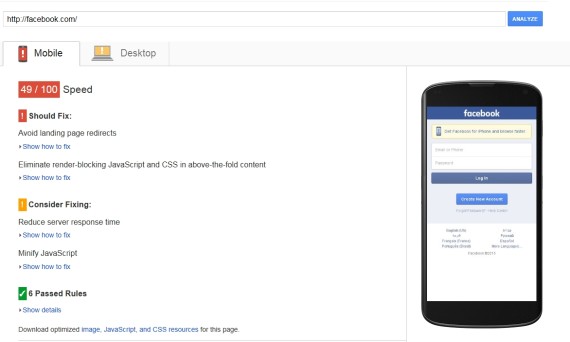 This is example I run on facebook.com, the truth is that mobile is not well optimized in google terms, but I guess the Facebook guys can live with that. You can see how many passed rules and what are the suggestions for things to improve on your page.
Make your content long enough
serpiq.com made a check for top 10 search results of over 20,000 keywords.
What they found is, the average content length for google top 10 results in any of the tested keyword, was at least 2,000 words. The pages with more content have reached higher places in the search results. The conclusion was that for better SERP (search engine result pages) at least 1500 words is a good target.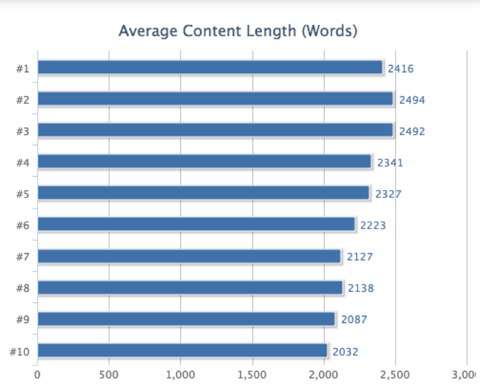 In the average content length vs. position, you can see that the first result typically has around 2,400 words and the 10th result has around 2,030 words. This shows that Google prefers sites with rich content.
Even so the Algorithm is not known, 2000+ words long form articles are highlighted as In-depth content in Google. indepth articles, are results provide high-quality content that meant to give users deeper and more extensive knowledge about a subject. As google says, you can optimize your site for the In-depth articles, by adding Schema.org Article markup (see more next).
Using Schema markup
Using Schema markup is something that help boosting your click-through rate and not your ranking. Schema markup helps search engines to understand your content better and to show more information about your website.
Schema.org is a site with a mission to promote schemas for structured data on the Internet.
Some Rich Snippets data types are: Product, Recipe, Review, Event and Software Application. Read more about Including structured data markup in web content Rich Snippets and use the Structured Data Markup Helper to add on your page.
This is one example for how it looks like for Amazon kindle app. The snippet type is Review, with rating of 4 starts from 473,223 votes. This is done with help of small code you can add to your page.


Another example is shown for live music Calendar. The snippet type is Event that mentions the dates and places. This is a great way to help search engine spiders to know about what your plans and they can show it immediately on the SERP.

As we saw for In-depth content, you can mark your articles with structured data. this is how it will appear in search results
(note: google changes the look from time to time)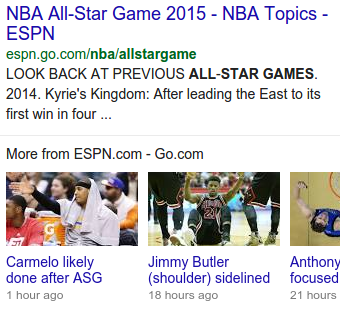 The required Article markup properties are: headline, image, datePublished. The optionals are: description, articleBody and alternativeHeadline. Here is a sample for json-ld markup format for article. You can place it in any part of your page code.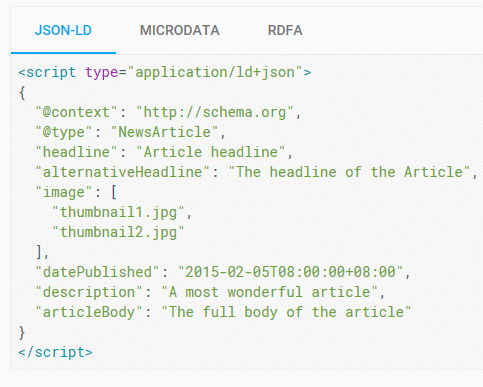 If you're wordpress user , there is a child theme designed for divi theme called Divi Schema Child Theme. This theme automatically adds microdata and generates Rich Snippets for you. it makes separation of your page: header, content, footer, sidebars , comments and more elements. That way, goggle can understand what is going on your page better and improve your search engine result visual look.
Research Your Traffic
Google Webmaster Tools are essential SEO Tools for any webmaster. It gives you data about your search traffic, links to your sites, internal links, structure data, Html improvements, index status, crawl information and much more.
In the Search Analytics you can find statistics about your clicks, impressions, CTR and position. You can find and analyze individual keywords and see which pages are ranking for those keywords. You can find new keywords that are bringing traffic to you and use them better. For example, if you have page with high CTR that don't ranks on google first page, but still has good position, find some good keywords and build links to that page to move it into the first page. You can also discover opportunities for pages or words that get traffic that you never knew about and optimize them.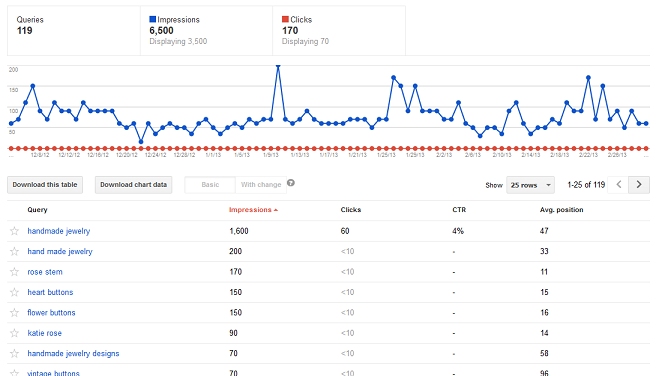 Easily find clicks, positions and CTR in the Search Analytics section.
What more can you find there? robots.txt Tester, your indexed or submitted Sitemaps, Content Keywords in for your web site and their Significance, Mobile Usability issues that affecting your site.
What Not do Do
Increasing organic traffic is something that takes time and it's not easy at all. Black hat SEO and other risky tricks can result in penalty or even worse if you are removed from Google's index.
Here are some things that you should avoid:
• Don't buy or pay to get back links.
• Don't build back links too fast, like hundreds in one day.
• Don't buy low quality and cheap links.
• Don't publish stolen, poor or spammy content.
• Don't use PBN (Private Blog Network) to get inbound links.
Conclusion
You need to work hard to get organic traffic to your website. I don't suggest that you buy organic traffic, but develop it. You don't need to do all things written here, even doing some of the more easy ones like: Title, description and keywords research can make a big difference for you. Nobody really knows what exactly are goggle's ranking factors, but there are some factors that seem to effect much more and quickly. Use this guide to improve your SEO and organic traffic wisely. Hope you enjoyed my writing.