Effective Ways For Higher Social Media Conversions
---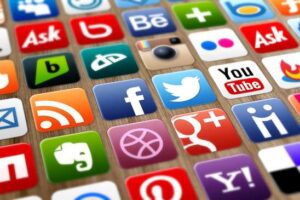 The importance of social media as traffic source cannot be under estimated. It may be among your highest traffic sources. Using social media to get traffic seems a great way, but not always brings the desired results.
In this article, I will suggest some ways for how to increase your social media conversation rates.
How to create better engagement and best tactics to follow in social media.
Use High Conversion Words
Twitter Cards
Facebook Open Graph
Social Media Sharing Widget
Use Hashtags to reach more people
Adding Images and media files
Create Humor content
Select the ideal number of characters
Write Interesting and worth Content
Create infographic
Increase Traffic with Social A/B Testing
Optimize your profile photo
Write headlines with high CTRs
Use emoticons
Post on the Best days
Track your Activity
Use social media conversation Starters
Join a Social group
Set a Call to action
Use the success formula
Use High Conversion Words
On social networks, certain words have better marketing power and conversion rates.
Using the right ones, You will be able to get more click and social activates (likes, shares, etc.).
In this article Neil Patel's gave a list for the best to use keywords for some of the popular social networks:
Facebook (Best words to get more Shares, Likes, Comments)
Post, Would, Take, Submit, When, Warns, Where, Discount, Should, Tell us, Amuses, Inspires, Comment, Deals
Twitter (Best words to get re tweets)
Free, Follow, New blog post, Check out, You, 10, Social, Twitter, Social Media, Top, Please, Media, Blog, Help, Retweet, How to, Great, Post
Linkedin (Best Buzzwords)
Responsible, Strategic, Creative, Effective, Patient, Expert, Organization, Driven, Innovative, Analytical
Google+
Share, Increase, Discover, Promote, Create
Twitter Cards
Twitter Cards use is to provide more information with your Tweets.
There are few card types: Summary Card (preview of the content), Photo Card, Gallery Card, App Card (mobile applications), Player Card (Video clips and audio), Product Card (product and retail items).
You can attach photos, videos, Audio and other kind of media to your Tweets.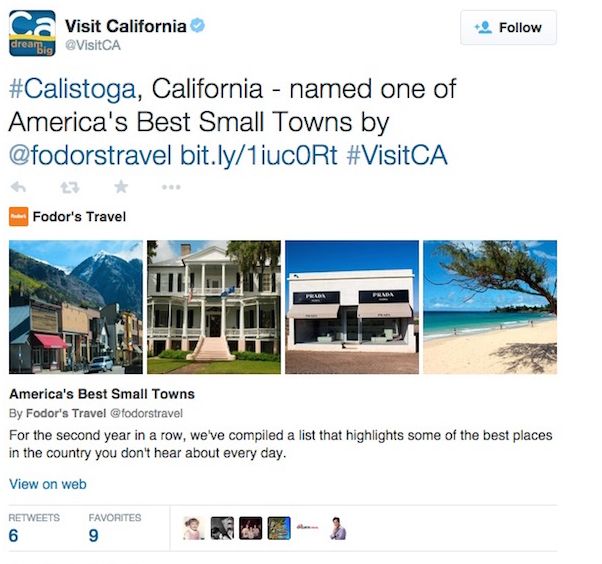 When user Tweet links to your content, he will have a "Card" added to the Tweet.
Facebook Open Graph
Facebook Crawler uses Open Graph tags to make a best guess about what your content is.
You add them to your meta data with the prefix og:. Some basic tags are: og:url, og:title, og:description, og:site_name, og:image, fb:app_id.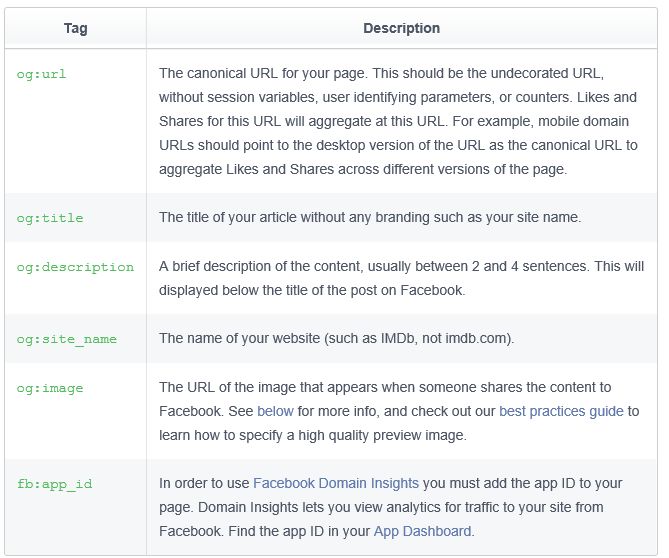 Here how this meta data looks like in HTML code:


You can debug your page with the Open Graph Object Debugger. It will show how your Facebook data it's fetched, what tags found and how it will look when shared.
WordPress users , can add Twitter Cards and Facebook Open Graph with the popular plugins WordPress SEO plugin by yoast or All in one SEO.
Social Media Sharing Widget
As I wrote in How To Increase Organic Site Traffic, Adding social share buttons to your pages can increase traffic by awareness. They increase your social signals and can help to your traffic as well . If you use WordPress, there are free Plugins to use, like: AddThis Sharing Buttons, Social Media Feather, Cunjo, or use embeded code for creating share buttons.
Use Hashtags to reach more people
Hashtag is word (s) preceded by a hash (#) or pound sign.
It used in social media for easy categorizing of content. A good advice is, always to add Hashtag, as it allow people to find you easily and expands your exposure. Tweets with hashtags get twice more engagement.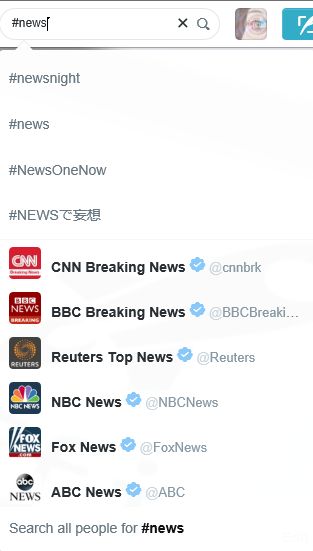 Above you can see the results search for the Hashtag #news I run in twitter.
Adding Images and media files
When it comes to social media, images and other visuals are major players with strong user attraction . They preferred more by users than simple text messages and gets higher engagement percentages.
Photos on Facebook Generate 53% More Likes Than the Average Post,
Try to Include images, videos, quizzes, animated gifs , icons and other visual elements to your posts.
Create Humor content
If you look at many successful social media posts, you will find that they are funny and writing with humor. One of the best ideas is content promotion with humor. I have seen this with all social media networks, how you can make something funny go viral.
The simplest would be, taking humoristic image with text and publishing it with your URL. You will soon get clicks, shares, likes and comments at no sweat- what can be better?
Select the ideal number of characters
Social media posts, are not like blog posts. By nature, they should be short and to the point.
Users do not want to read a long and tiring stories, they want you to get to the point from the start.
From a study of optimal social media lengths, we get some worth insights:
Tweets shorter than 100 characters (71-100) have 17% higher engagement rate. For Facebook 40 characters or less gets 86% more engagement. Google plus optimal length, is below 60 characters and the optimal length for hashtag is 6 characters.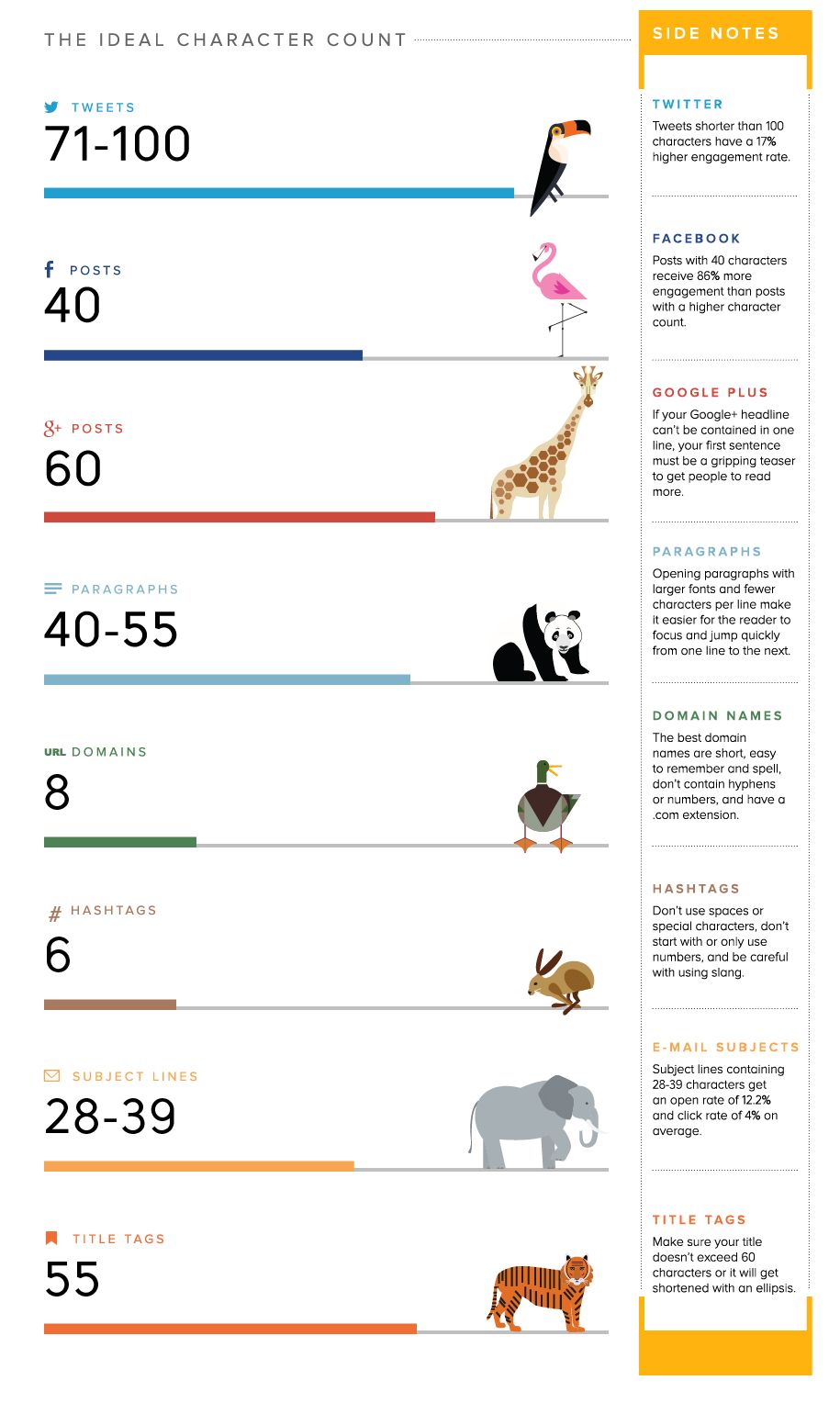 Use this social media length infographic to find the right length on your selected social network.
Write Interesting and worth Content
This advice is valid for both blogging and social media. The content you write effects on everything. What social users are looking for most, are interesting and funny things. We all know that high quality content gets higher places in SERP results and shared better. If you have good content, people from your industry will be happy to share it and you will reach to new audience not necessary from your own circle.
Here are 151 Blog Post Ideas That Will Make Your Blog "HOT".
Create infographic
In creative link building I suggested that you create an infographic. One great and free to use service is Easel.ly . It has interactive layouts allow you to embed charts, photos, and to edit ready to use infographic templates. If you like, you can build the entire infographic from scratch. All is done with drag and drop into your editor. You can also download or save your info graphic in jpg or pdf format.
This is example for ready to use infographic template I download from Easel.ly.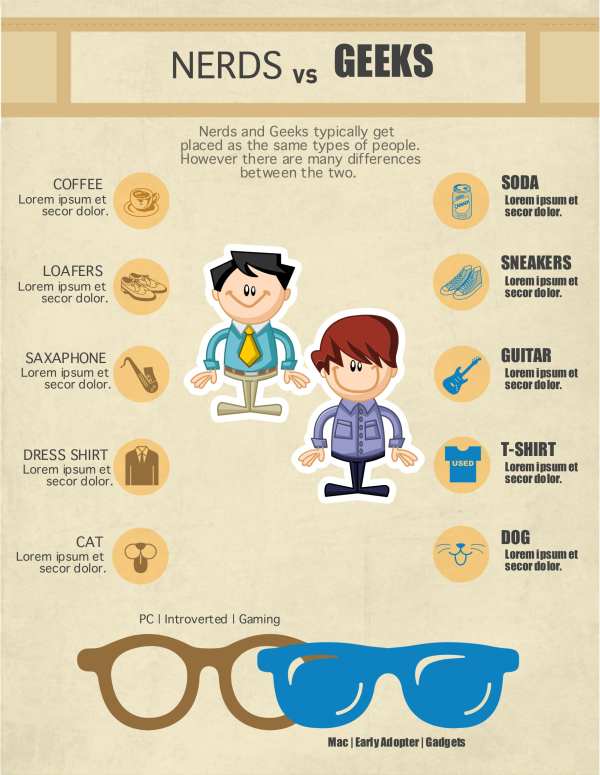 Increase Traffic with Social A/B Testing
We spoke about A/B Testing what it is and how to use it. We can apply the same principles to Placement of your social buttons. How you layout your buttons and where you put them, has significant meaning for your conversation rate.
18 Awesome Ideas For Content Promoting And More Traffic
Optimize your profile photo
As people, what we see has major impact of what we think and how we treat it. If we see something we like, it makes us feel we want to continue and read what coming next. Rand Fishkin of Moz made simple test with his twitter images. He's been able to get more followers on Twitter when he changed his Twitter profile picture to the one in the right.


When creating your profile, pay attention what image you use and how it effects engagement. Try to make changes and see what gives you the best results. This is very much like A/B testing. Actually, you can do A/B on that as well.
Write headlines with high CTR (Click Thru Rate)
Having a great content is not enough.Your title should be also great if you want people to consider reading it.
Here are few tips of how to write a Catchy Headlines.
1) It was found that adding numbers to headline catch people's attention.
2) Make use of interesting adjectives such as:
Effortless
Painstaking
Fun
Free
Incredible
Essential
Absolute
Strange
3) Use of unique rationale as:
Reasons
Principles
Facts
Lessons
Ideas
Ways
Secrets
Tricks
4) Use of: what, why, how, or when
After applying these, I suggest coming up with a list of titles to consider, like 5 that are best and make a title split test. If using titles for your web pages, WordPress has the plugin Title Experiments Free.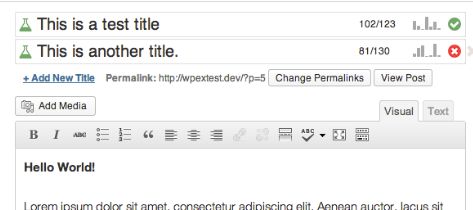 Go to a page you of your choice and add new titles. Each of the titles will be served randomly to your viewers, the plugin will measure how well people respond to the title. The plug counts number of impressions, this is how many times the title displayed and the number of views, when users get into the page. It automatically promotes the best titles that get more impressions and suggest them to new visitors.
Since we are talking about social media, you need a different A/B test.
One option is to use twitter. Select two of your best headlines, sent two tweets and check where the highest engagement was.
This should be your selected title. To track the test information, you can use platform like buffer.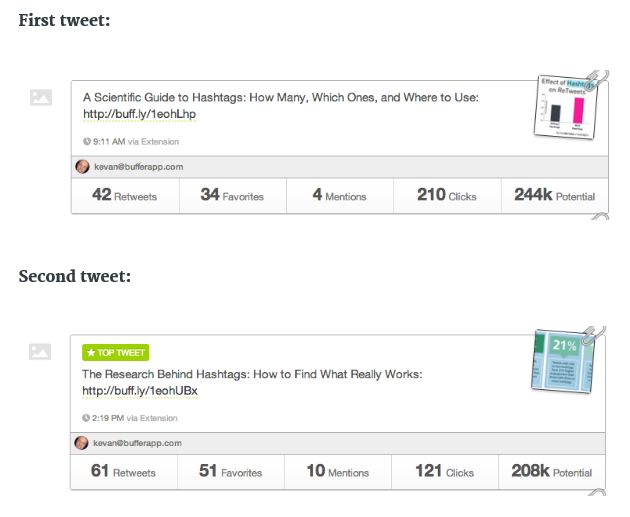 You can read this great resource from Kevan Lee about how to perform A/B test on headlines.
As you can see, the first headline got almost twice clicks, but less retweets and mentions. Evaluating the potential indicated, that the second tweet might be a better headline than the first, as retweets and mentions are more relevant.
Use emoticons
Emoticons is a representation of a facial expression. It is a combination of the words emotion and icon. They expand the way people express and communicate with each other. Among other things, they make you more popular on social media and appear friendlier to others.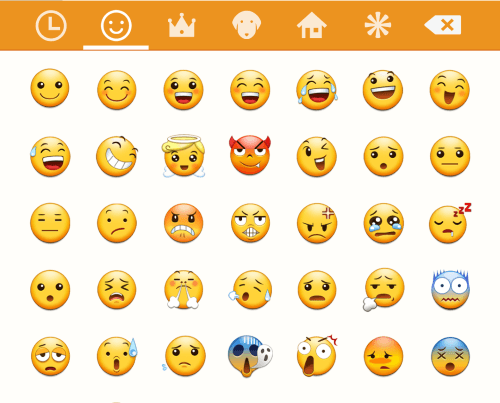 It was found that posts with emoticons get 33% more comments and shares. They get liked 57% more often than posts without emoticons.
Here is a List of Emoticons for Facebook . It is very easy to use. All you have to do is copy and paste the symbol code beneath the emoticon's image.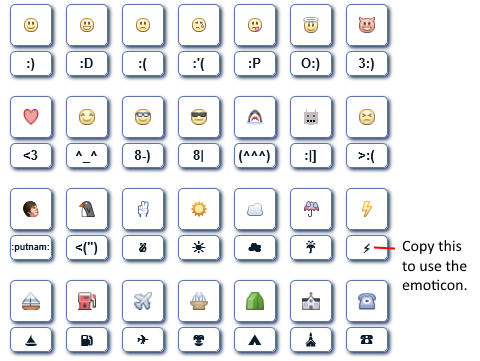 Post on the Best Days
Buddymedia's carried a study on 4.8 million tweets going through Buffer. The aim was finding the best time to tweet to get clicks, retweets, favorites, and other aspects. They came with Social media scheduling best times. For facebook, the best time for post are Thursdays and Fridays with Engagement rates 18% higher. The explanation to this was, the less people want to work, the more they spend on Facebook. Another study found that engagement was 32% higher on weekends.
For twitter, engagement for brands is 17% higher on weekends.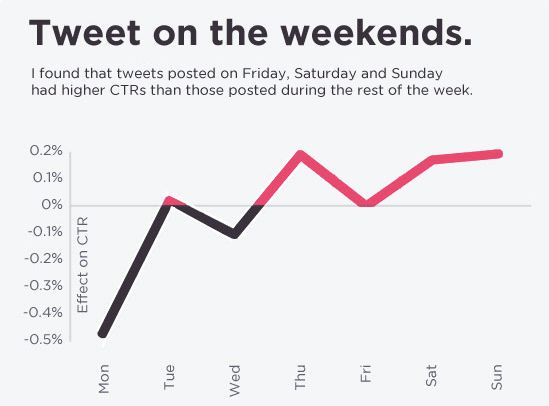 Track Your Activity
To know how well you social works, and been able measuring your social targets, you need to use some tracking tools.
Hootsuite is a platform for managing social. It gives statistics about Clicks by region, Top referrers and more.
It offers Facebook Insights data: active users, likes and post views.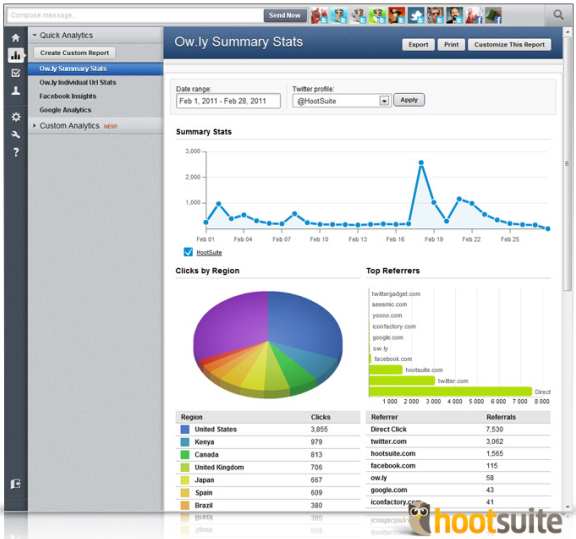 Social mention is a real-time social media search results.
It monitors 80+ social media properties like Twitter, Facebook, YouTube, Digg, Google etc.
Among other things, it shows trends, sentiment, Top Keywords and Top Hashtags.


Here is the FAQ page about how it works, and definition for some terms like strength, sentiment ,etc.
Buffer is another popular social manage software where you can schedule posts to Twitter, Facebook and LinkedIn. It has analytics include in the paid version.
Use Social Media Conversation Starters
Conversation Starters are useful for both making a conversation and your post. What you want is to keep your audience from leaving.
You also want to offer them to take the next step. I think the best way is by question, survey or a quiz.
If you wrote a post about social usage, after your tweet add something like:
How many times do you log into Twitter a day?
Here are 30 conversation starters for your social media.
People like to participate and like to share more than you know. Just give them a good reason to do that.
Join a Social group
Groups are great way to spread your content and to engage with others. Particularly, Facebook groups and Google+ communities.
Search for large groups with many members related to what you do and join them. For example, I found a Facebook group called Seo Experts Worldwide with around 27,000 members. so, my post can reach to many relevant people at once.
You can also create a new group or Community. Read a guide for how to build a Networking Group.
Set a Call To Action (CTA)
Call to action is invention from your audience on what action to take in respond to your post.
It can be many things: click a button, sign up, download an eBook, attend an event, go to another page, answer a question, and give your email.
Some common words are: Click here, Subscribe now, Read more, Buy now, Leave a comment, make share.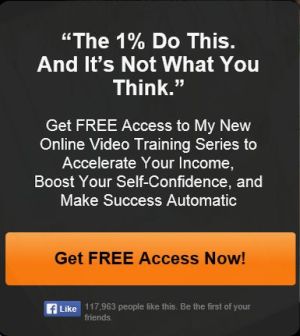 What are the best Social Calls to Action?
On twitter, best CTA found from dataset of millions tweets,included the words : Please ReTweet, Please RT, Please Help.
On Facebook ,best CTA from 10,000 Top most liked pages, included the words: Like, comment, Share.
Use the success formula
You want to make sure that, as much people as possible from your target audience see you.
Because, some social network have fast updates, your post can easily get lost in that sea of updates.
First, make sure you post enough. Around 5-10 times a day on Twitter and 1-4 times a day on Facebook for optimal outcome.
Post to multiple social sites along with your own blog and use optimal timing as I already wrote.
So, the success formula is:
Frequency x Timing x Multiple sites = Bigger Awareness
With each component multiplying your presence and strength your awareness.
Wrapping up
Social media networks are important in all aspects and are something you cannot ignore today.
As seen, there are better ways to use social media in order to achieve higher conversations. Hope you found this information helpful.
I am sure you can use some of these advices on your next tweet or Facebook post!
Comments are welcome.