18 Awesome Ideas For Content Promoting And More Traffic
---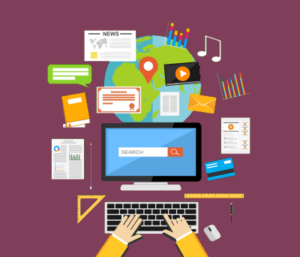 In this post I gathered some cool ideas how to increase website traffic using Inbound marketing.
While not trying to talk about everything, it covers few effective ones and with widespread distribution .
This is my second article in the get more website traffic series.
Don't be Shay to comment below!
---
Inbound marketing
Inbound marketing is a name for all to marketing methods to draw prospects attention and bring visitors in, rather than old methods where marketers having to go out searching for prospects.
It's about creating content specifically designed for your audience and sharing it with others.
This is how inbound gets prospects attention and visitors that are coming to your business.
The appealing content keeps them coming back for more.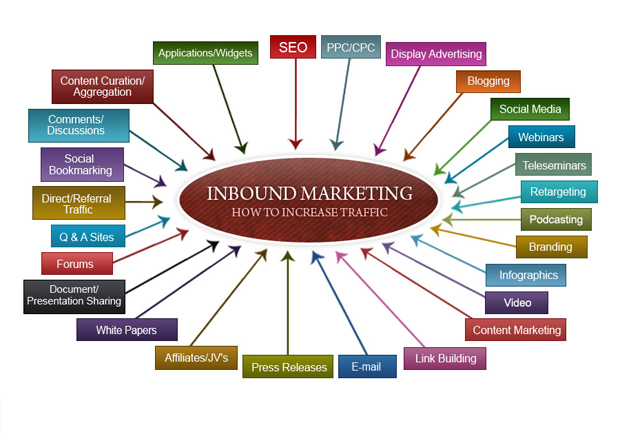 Picture source Moz
Here are few ideas to start with. some are more known, others less, but all worth the try.

Slideshare is part of LinkedIn with 70 million visitors per month that are coming mainly through targeted search.
It is today one of the top 100 most-visited websites in the world and a PR8 website.
With these facts, Slideshare makes it the ideal tool to grow your business-highly targeted audience and low competition.
You'll also be able to rank more easily for hard and competitive keywords and get referral traffic from there!
SlideShare doesn't allow live links in the description of the presentation, you can bypass this by inserting a live link inside your presentation.
To succeed in Slideshare you must make amazing presentations, this will enable you to get traffic,Rank better on Google and Build your brand.
Share the presentations on all major social networks as Facebook, Twitter, LinkedIn and Pinterest.
Here are 5 powerpoint templates to create killer slideshare presentations: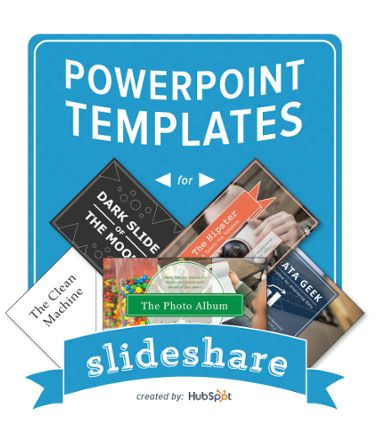 And
10 Tips for Making Beautiful Slideshow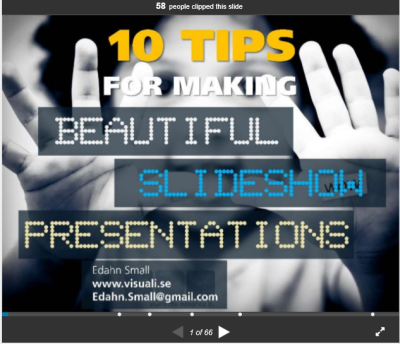 Here are some facts about Pinterest ,that will make you think why you want to use it more:
• It has 100 million active users
• 85% of total Pinterest users are female
• Pinterest and Tumblr are the fastest growing social networks
• Pinterest is the fastest growing website by overall member growth
• 88% purchase a product they pinned
• 49% purchased 5 or more products they pinned
• It is the number two traffic referral to websites with about 50 percent of visits happen after 3.5 months of first Pinning.
(Data as of 2015)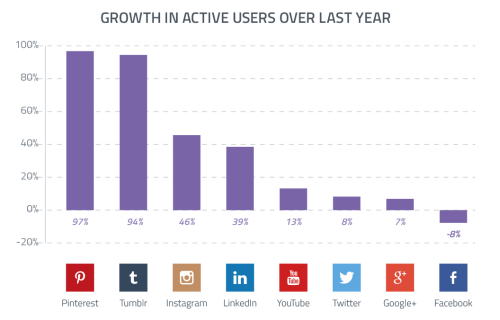 Pinterest's Most pinned categories:
• Food & Drink
• DIY & Crafts
• Home D?cor
• Holidays & Events
Pinterest's Most browsed categories:
• Food & Drink
• DIY & Crafts
• Home D?cor
• Their home feed
How to use Pinterest to drive traffic to your website:
• Create boards with keywords in your title and description.
• Add at least 150-200 words of text to describe your pin using relevant and targeted keywords
• Add your website link in 2 places: in description and in the source for the pin
• To Build authority Curate other blogs with similar content to yours
• Embed pins on your blog to get more repins- you can use the wordpress plugin Pinterest "Pin It" Button.
• Use Rich Pins that include extra information right on the Pin itself.
There are 6 types of Rich Pins: app, movie, recipe, article, product and place.
• Use Pinterest web analytics's to gather statics about: impression, users, locations,etc.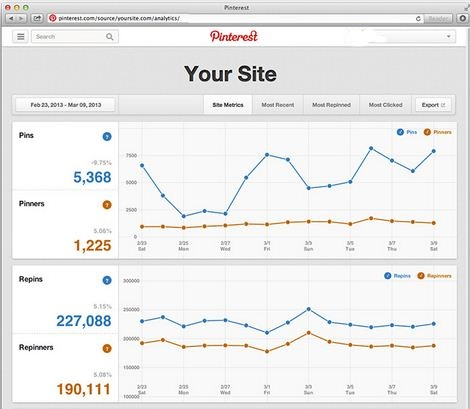 One note: don't use short links on Pinterest, it has a tendency to flag short links as spam.

Scoopi.It is easy and fast way to spread your content while using this PR7 popular content curation system.
On the platform people can collect anything from around the web and than publish it in a magazine style.
Many of these pages are with high PR and you can use this to drive traffic, build links and promote your content.
With a free account you can have one topic and 10 Scoops per day, this is how you do it: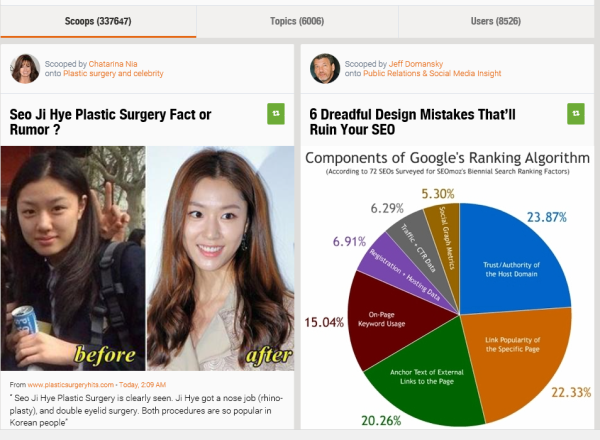 Create free account and click the create topic button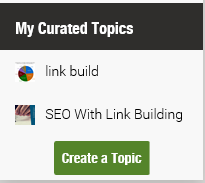 From the search box, look for pages with topics similar to your. These page must have many page views and shares to get best results.


On the page you should see the suggest box, you can enter link or upload document to it.
Suggest your content to the page owner, if he likes your content, He'll post it on his page.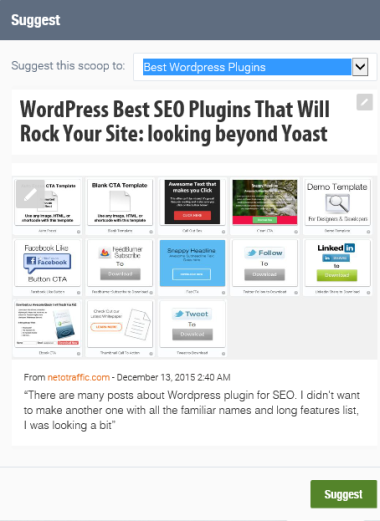 To make this most effective, before you suggest, you can follow the page owner on social network and give him some likes to develop some relation with. If you want to know how you can use PR3 scoop.it page to publish your content in almost zero cost, sent me private tweet and I'll show you how.
Build a list about anything—resources for your niche, articles you love, People, helpful tools, recommended books, Apps, Resources, etc.
You can also list links, share and embed you list with others.
After you open Account, click on the Make a list Button.


Click on Add to List to add something to your list


The Add new item bar will shown, it can be Text, link,photo,etc.


That's it, you just listed an item!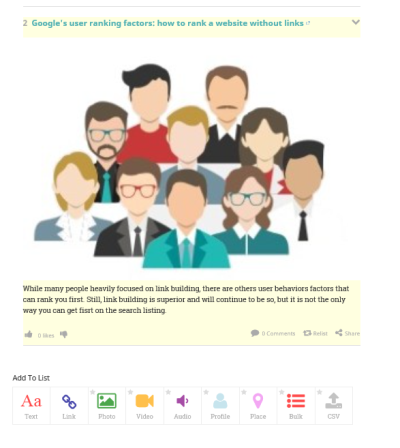 5. Finding Social Media best times
How many of your followers really see your tweets, posts and shares ?
You want to get maximum exposure for your tweets and to reach as many people as you can .
For that, you need to find the optimal time to set your tweet.
Tweriod is a free tool that analyze both your tweets and your followers' tweets and find you the best times to tweet.
Login to Tweriod and select your account, Tweriod will analyse and create a report for you. It'll notify by email when the report is ready.
When ready, click on the My Analysis button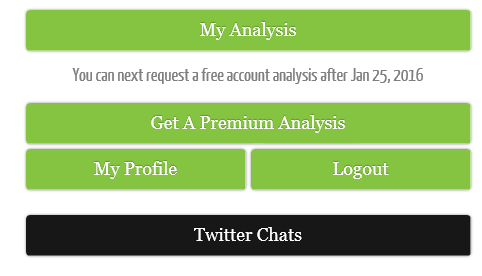 You'll be able to see the times most followers are on line and on what times your tweets got the most exposure.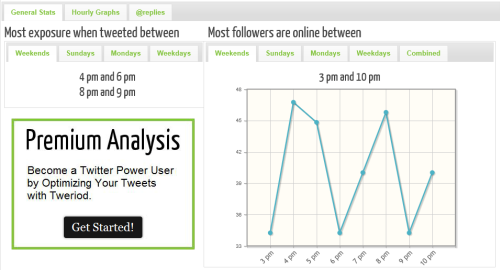 Here is how to do that using facebook insights.From your Facebook account, Click the insights tab and select Posts
You'll be able to see your Fans days and times accumulation.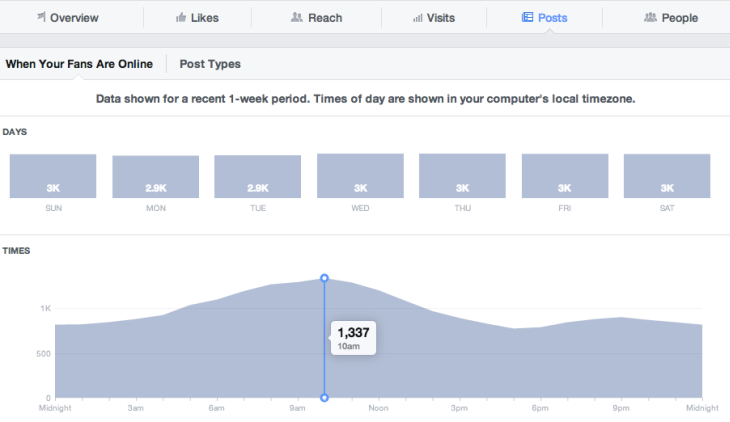 Now use it to schedule your tweets with tool such as hootsuite or buffer.
6. Posts Comments
This technique is so popular, yet powerful and sometimes overlooked.
For few of my pages, I'm getting nice referral traffic from visitors who saw my comments on other pages where I left them.
And because organic traffic and epically google's is harder to rank sometimes , epically if you have a new websites- it's good thing to do.
Start slowly, make one comment a day or few in a week and you'll see increase in your visitors traffic.
If you have the time and can write more comments, than do it.
You want to find popular and relevant posts to leave your comments.
For example, if you have a site about hotels, it don't makes much sense to leave many comments In video games sites.
You should look for similar niches like hosting, guest sites, tourism, etc.
As always, leave good and beneficial comments. Give tips, enhance the post, add something new to it.
Bad comments like "great post", "thanks for sharing" are not working and most likely you'll not get approved.
Flattering is nice, but add something, ask something.
Yes, question on the post is most welcome and shows you read and have interest in the subject.
If you leave a good comment that might catch others attention, you have better chances to get clicks as well.
Some people look at Posts Comments as mini blog posts and write with a great details.
This gets others attention and shows they know what they talking about, so people click to see more about that person.
Take a look at Adrienne smith's blog, it's fantastic example for how to develop relation and communicate with people thru comments.
To find relevant posts and blogs, you can use google, or a free nice tool as DropMyLink.com
You be able to filter by time ,TLD, category and footprint.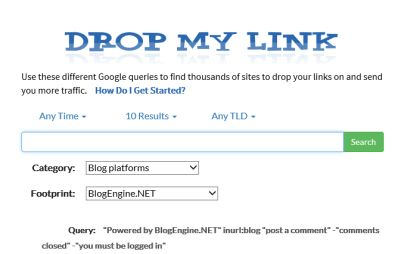 Finding a CommentLuv sites where you can gain do follow backlinks is easy.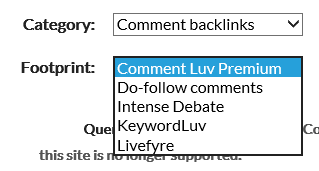 How to locate resource pages: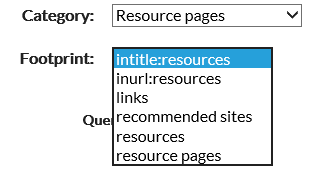 Find guest posts: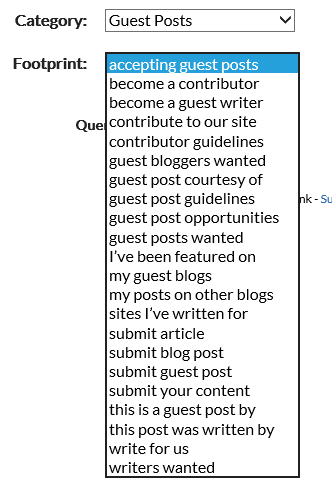 How about a Link Roundups: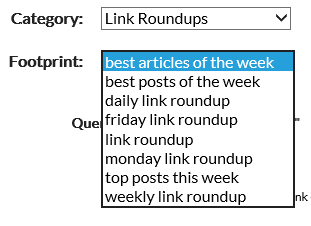 list of 130+ High Domain Authority Sites To Get Valuable Backlinks

Quora is such a great place for Q&A, one of my favorites.
You'll find many professional asking and answering questions on different topics.
You can ask ,follow or answer on other questions yourself.
The best answers are shown first using voting system by letting users to vote and rank the best ones.
It's Also great place because of the referral traffic coming from these pages, I get around 250 views for my answers each day.
For example, many of my visitors to the post Alexa Traffic Ranking: How does Alexa rank websites ? Are coming from Quora.
I Wrote some good answers to a few alexa's question and added my link when it was relevant. (Btw, I'm also one of Alexa's Most Viewed Writer)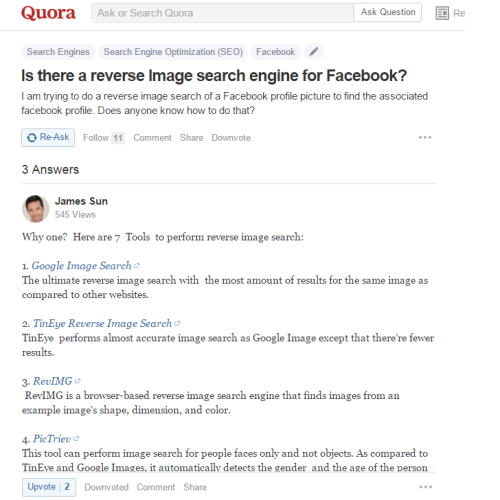 Registering and using is simple and intuitive- I'm sure you like if you haven't use it before.

I got the idea using this service from Erik Emanuelli that wrote some great posts on social media (thanks Erik)
Viral Content Buzz is basically a mini network that allows you to participate and share others posts in social media channels, while getting shared too.
How ViralContentBuzz works ?
You add a URL you want to promote to a project along with title and short description.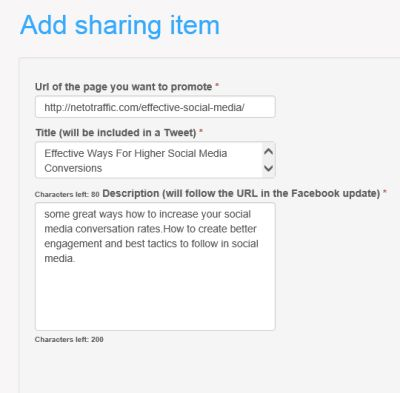 Than you select group of interest (can be one or more),size for your budget and assign it promotion channels like :
Twitter, Facebook, Pinterest & Stumbleupon.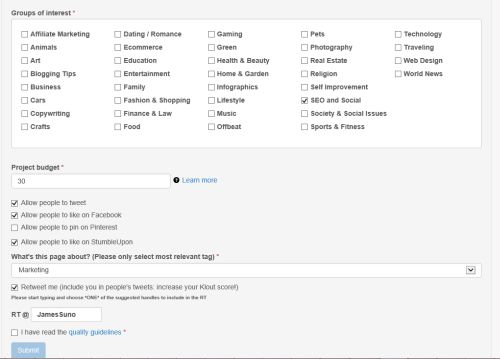 Each promotion can cost 1-4 credits depends on what it is.
You can earn credits by sharing others content and to build up a credit points bank or you can buy credits to use.
Once Your project approved and run, you'll get shares,retweets, likes and pins according to your selection.


It's a cool tool to use, give it a try.
Btw, Ann Smarty is co-founder of ViralContentBuzz and this can only be an advantage.
Sinply is another great tool to drive and get traffic.
It can be used to promote some other influencer content and drive referral traffic back to your site.
Here are two common ways to use it:
• Promote your own content while attaching call-to-action to it.
• Promote someone else's content and include your own message.
The system also track on-page data such as bounce rates and time spent on page along with clicks ,conversions and A/B tests.
Just log in and enter a URL ,you be quickly be able to add CTA, message and button to the snip.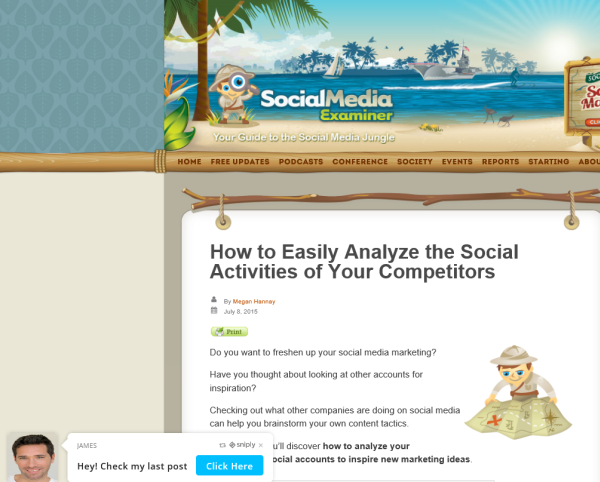 After the link is open, see how my snip with Check my last post is showing on one of social media posts.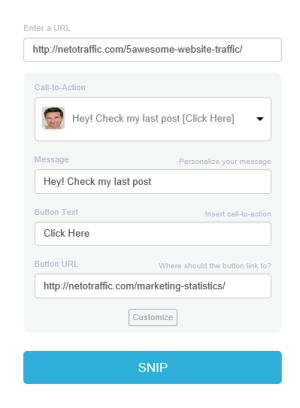 Any one who clicks on Click Here button will be redirect to my site.
When you use someone else article, use social network to amplify the effect.
The simplest ways would be twitter or Facebook.
Reddit is social news networking service, where members can submit content and comment on, in a way that resemble on line bulletin board.
Members vote for the best content they like , the top will be shown first in reddit feed.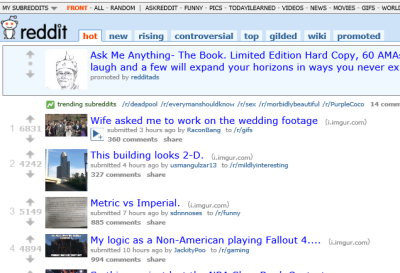 Here are 5 stats about Reddit ,I took from expandedramblings:
• 234 monthly unique unique visitors (1/3/2016)
• Number of subreddits 853,824 (6/23/15)
• Users from 217 countries
• Monthly pageviews 7.93 billion
• 2.75 Million Redditors
Reddit is made up of subreddits, which are actually categories, or tags for every subject.
To find subreddits, you can do a search on Reddit itself.
Posting to the correct one is important from at least two reason:
(1) to get many votes, (2) not to get disapproved.
If not following the subreddit rules, you can easily get disapproved- make sure you read them.
Traffic from Reddit can be big bonus for your site if you can get people attention.
But, the truth it's not easy trying to promote your self in Reddit.
In-fact this community hates self promoting and especially marketers.
Redditors can be very straight and tell what they think on you right in the face.
I remember the first time I tried to find student in the Hiring section to write for me post in edu website.
One minute after I submit my request, I got cold shower from the Moderator asking me (not politely) to stop.
It appeared that someone reported me and it was a swift action.
After 2 upvotes from a link on reddit will get you a do-follow backlink
So, how can you cross reedit safely?
1. Keep It Relevant
Find the most relevant subreddit that you can Post.
research ,see what others post before and what got the most attention.
Don't forget to read the subreddit rules before you post!
2. Post Great Content
It must be long and well writing content, catchy headline, awesome news, great video-
Don't go on less that that.
3. Post more than once
Before getting to the 'money post', drop few comments and make posts in to the subreddit.
You have to let people know about you, it's all about having a relations.
4. Don't try to promote your self
As I said, putting your product in front of Redditors is big mistake.
Don't try to do any promotion inside redddit. Do it on your website or else where.
Once Redditors suspect you, they will not be nice and you'll burn your self.
5. Know what to Post
Infographics, Interviews links, Videos and Questions all go well in Reddit.
I also had success with news (but it's not selling :()
6. Find the best times to post
Reddit is based in the US and largely driven by US traffic.
You want to maximize your post's chances of reaching the top of a subreddit.

Based on the data using the RedditLater analysis tool, marketersguidetoreddit.com found
The optimal submission window for most subreddits is 8:30am to 10:30am Eastern Time.
You can use the Later for reddit application to find your subreddit best time more specifically and even
Schedule and analyze your posts.
7. What not to do
Don't buy votes, the Redditors are smart and loyal community.
And they keep playing by the rules. Once they spot you- you'll be banned.
Don't spam, don't put too many links from the same domain- it can look suspicious.
8. Accelerate traffic using Reddit Ads
If you feel you need more traffic and don't have the patient to wait, advertising with Reddit using sponsored links is easy and cheap.
Minimum budget is 5$ where you can place a bid from 0.75$ per 1000 ad impressions.
For targeted traffic this is cheap.
Advertising Help Center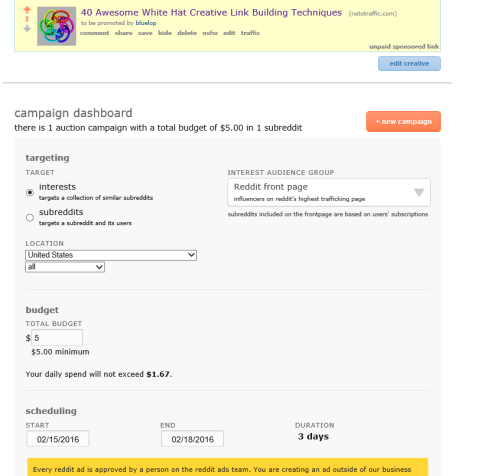 Here are 5 reasons why facebook is the ultimate community building platform:
• 71.2 % of all USA internet users are on Facebook
This is huge number of people located at one place in the network
• More than 650 million active users with 50% log on to Facebook in any given day
Mass of active users are ready to engaged at any given time
• Average user is connected to 80 community pages, groups and events
Facebook is build into communities with many users participating in not only one
• Over 900 million objects that people interact with (pages, groups, events and community pages)
You can get multi interaction and few ways to share things
• Entrepreneurs and developers from more than 190 countries use Facebook Platform
It's global, world wide spread and culture crossing platform
Why Facebook groups are better than your personal page ?
As you know, many bloggers, companies and others, use their facebook pages to share latest posts and status with their followers.
Each new like will make you automatically a follower who gets their updates.
But facebook organic reach is now harder than before with
average of 1,500 stories competing on your personal news feed each time you log in!
These change in how facebook works, making it harder on you to reach your followers.
some say ,this is because facebook wants you to use more its paid Ads service, but I think this is also because of the huge amount of posts facebook has.
So, only a small fraction of your followers can realy see your posts and status.
The solution can be shitting from using pages into facebook groups.
Groups has a targeted audience and can have larger reach than your facebook post page.
Groups allow people of similar interests to get connected and share knowledge, ideas and to ask questions.
You can find groups in few of ways:
• Go to your facebook page and type subject + "group" to get a list of potential groups.
• Look at your friends' profiles to see if they're members of any groups.
• Use Facebook recommendation and browse suggested groups. click one main page arrow and "Your groups"
You'll get these groups :suggested , friend's, local and your.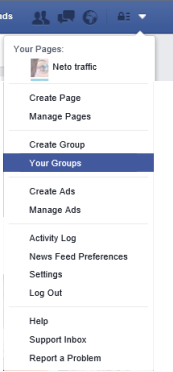 Choose the one you feel is closest to you and join it.
Some are closed groups and you need to get approved before you can join.
"Secret" groups also exist. This type will not show up in searches or on people's profiles.
To join them you must get invitation fro the group.
It can be a great way to drive targeted traffic to your blog posts and to gain new audience.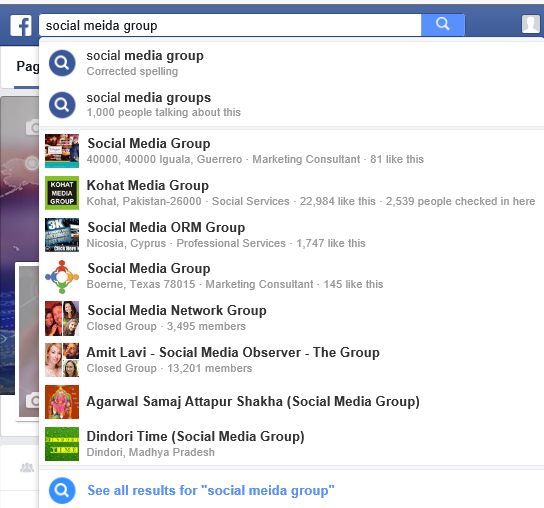 After you joined, new posts will appear on your News Feed.
You'll be able to comment and participate in the discussion.
Before you become fully active in the group, you better introduce your self and show some activity in the group.
It'll be much easier for you to share your posts later.
BuzzBundle is another great tool from link-assistant used for content discovery,content promotion and link building.
In the free version you have all features, but you can't save the project and have to build it from start next time.
Usually, you can get some discount, I bought the full version at black Friday at 50% discount.
The software includes these streams to watch: Blogs, Forums, Social networks, Q&A sites, Video sharing sites.


Start by creating keywords groups (at least one) that you want to track from the left bar menu.
Once you click on the FindBuzz button, the tool will search your streams for these keywords and display what it found for each channel.
You need also to create a persona.
Persona allows you to interact with any name and email you like and enable easy switch from one person to another.


If you like, you can filter the Buzz to specific channels or see all (default).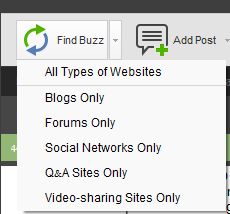 You can also filter the search based on what it contain, does not contain, start with, and more.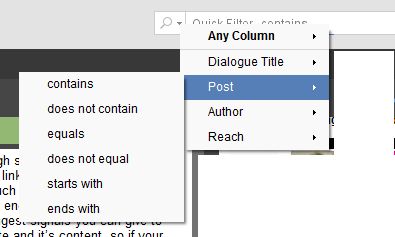 Use the filter to find specific posts or tittles , reach levels (less or more than),etc.
A great way would be using the search filter to find big reach posts.
Than to filter again using the post's URL finding all people that engaged with that post.
Once done, reach out to them and suggest your post.
You can assume they have some interest in the subject, and will be willing to share yours too.
After Buzzbandle scraped all the content listed on social media channels, you can search and start engagement with others.
Let's see some examples how to use it.
Here is one question we got from Yahoo Answers about link building.
If you want to see the whole page, click the link to open it in Buzzbandle web browser.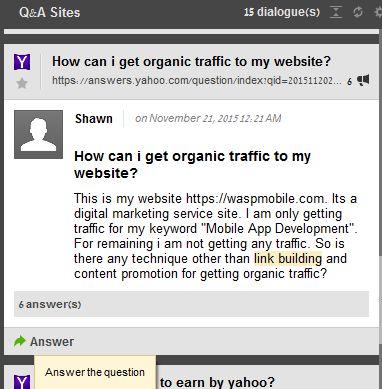 Or Just hit the answer button to write yours. select the persona along with your text and links (optional), you can also schedule the submission .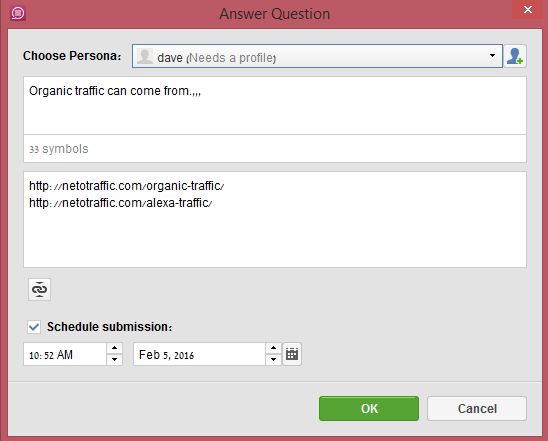 Here is video from the Video sharing sites channel. If you mouse over, you see the reach : views, likes and comments.
Than select if you want to comment or making another interaction.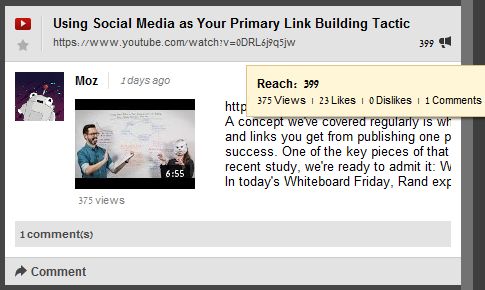 When you find posts on your topic, you can go the page and contact the post writer.
in google+ you can suggest to add your post.


If you find a tweet, you be able to sent direct message to that person.
give him your post link and invite him to take a look.


Using the reports you can get few statistic about number of mentions, reach and authors by channels.
It can help you focus your efforts on the most valuable media.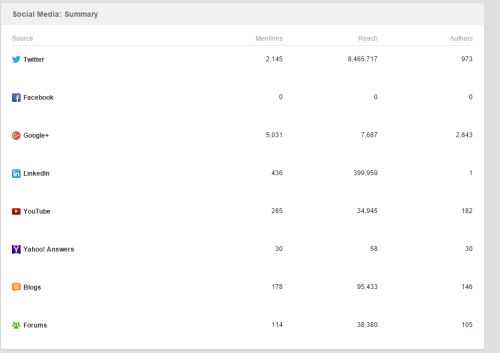 More things you can do with BuzzBundle
• Posting on social media networks, but this is less powerful than other tools as buffer or hootsuite.
• Brand tracking for your company, products and services mentions.
• Find if something has a Buzz and what people are talking about (you have to supply the keyword)
• Use proxies for hiding actual location and use proxy rotation feature to switch between proxies.
Now you can see why BuzzBundle is such a powerful social media software.
It can help you find targeted audience, engage with others, build relations and drive traffic to your site.
I'm sure you can find more ideas how to take advantage of this tool by exploring and using it.
Nine out of every ten B2B companies are using LinkedIn
So, why B2B (Business-to-business) marketers love LinkedIn?
1) Getting leads and targeted traffic from this social network is more easy
2) Excellent way to build relationship with others professionals
3) Can easily communicate with industry influencers
4) A great platform to build your reputation and authority
5) You can reach the right groups and demographics for your business
6) You can get leads and referrals from business communities and connections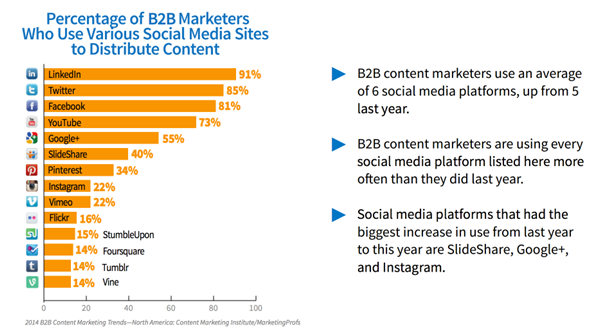 But, it's good not only for B2B.
LinkedIn is professional network with high reputation and you can use it to find opportunities and learn how others promote their business.
To find groups, search for your topic keyword and a drop box will open with Jobs, People and Groups about your topic.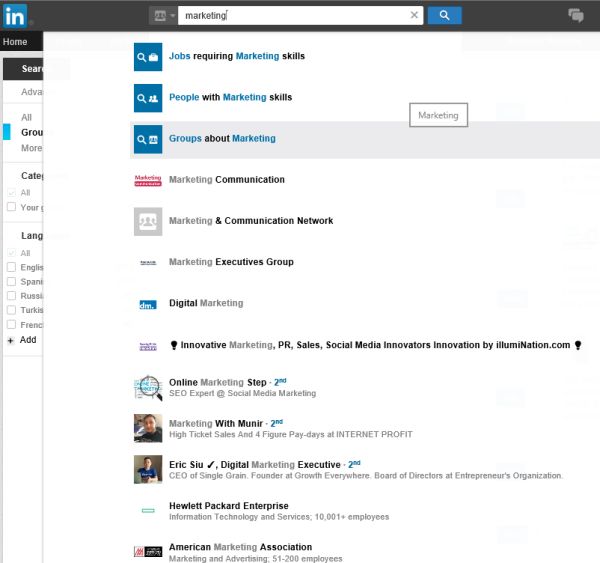 Click on the groups and a list will be shown with the number of members under each group.
Click the join button will sent a request to join the group.
To find more groups that are on the same topics, click on Similar.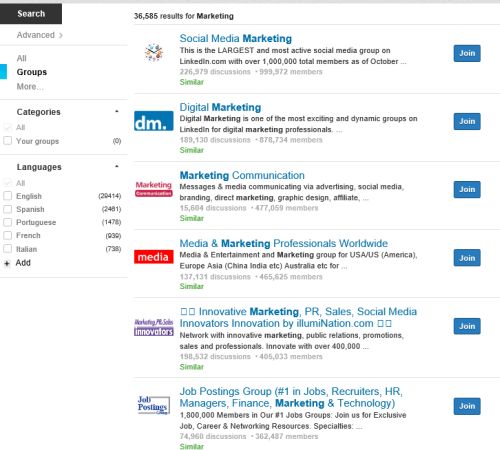 If you click on discover groups (after join), you can see more about the group and how many people you know are in this group.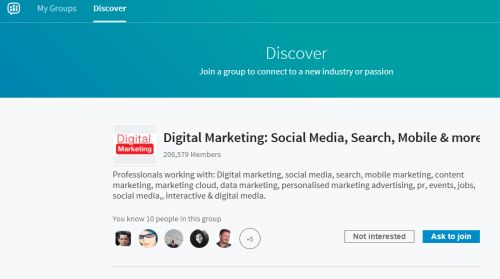 Inside the group, you can add your posts, comment and like on others posts.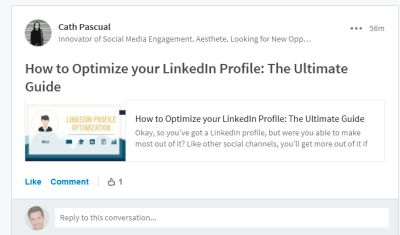 To locate your groups, hover on Interests in the main tool bar.


Each group has rules, make sure your read them before you start using the group. They will be located in the about this group section.
Try to visit each group at least once a week to keep up and to show activity.
You can use tool as Inboardpro, to manage all groups and company pages (basic account cost 5$).
Another thing is creating your own group. The benefits will be creating your won rules and deciding how things will run.
However, it can be time consuming and a lot of work to mange, moderate the group, supervise and follow on groups members.
Learn from here How to Build a Thriving LinkedIn Group

Sumome offers a collection of free tools (more features are paid) that can help you grow your website's traffic.
Register for free from their site, and you be able to install the wordpress plugin directly into your WP account.
Some tools are a real catch and easy to use. let's take a closer look at them.
Discover
You get connected with 150,000+ other SumoMe sites to promote your content on their sites, and you promote new content for your visitors on your site.By featuring your articles on your sites , you earn credits when people click on Discover links at the ends of your articles.
Than you use these credits to get more traffic from other people's sites.
If you like to know more about Sumome wordpress best seo plugins.
15. Article Sharing Communities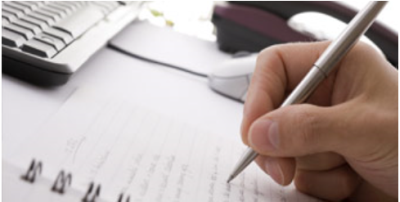 Article Submission is one the most powerful off page techniques to build links, even so it become a bit spammy these days.
Now, I'm going to talk about using these sites as traffic source to get more visitors.
There are some guidelines to the content you submit to these sites, like: submit original article, minimum length, no grammar errors, keyword density, no link spamming,etc.
Some of the article I saw on business category, had hundreds of visitors.
Here are five of the best high ranking article submission sites to use , along with Ahref's domain rating at the time of writing.
Ezine Articles [73]
One of the most authoritative ,famous and big article marketing sites.
Very easy to use with rich support, you can create few author profiles for your articles.
Accepts only original and high quality articles with strict rules about how to publish.
Article body has to be 400-5000 words, no links allowed in the article body.
You can add no follow links at the author box below the post.
Can be great source for getting visitors traffic to your sites.
Article Base [68]
Nice article submission site. very authorize and with thousands of visitors in a day.
Allows links in the article body and fast approval times.
For approval, require the same principles as- not duplicated and high quality content.
Ezine Mark [67]
Another good article submission sites with high Ahref's domain rating.
Follows the rules of Ezine articles for content checking.
You have to submit more than 450 words to get approved.
Not allows do follow links in your articles and one of the fews that allows images to your posts.
Articles Factory [61]
Not fancy looking, yet effective one.
You need to use HTML tags for article body design (new line, bold, etc).
Allows to place up to three do-follow links in signature or your post body.
Another good place to get referral traffic from.
Sooper Articles [58]
Follows the same submission guideline as Ezinearticles.
The site doesn't allow to submit duplicate articles and your article will be reviewed for it's original content.
Users can vote for interesting articles and there is section for popular Articles by Week ,Month and all times.
16. Submit to Content Aggregators
Content aggregators use categories to group similar content.
These sites use RSS feeds to import new site content.
Most of these sites use your new content or your 5 last posts and will show the posts headline and link.
Some top sites are AllTop.com, BLOGORAMA , Blogengage.
See more on that in creative link building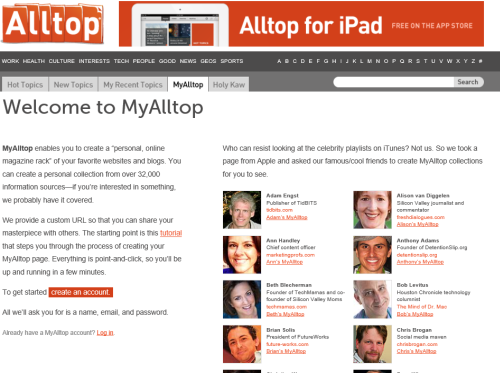 AllTop.com has 25k visitors per day (as of feb 2016) with strict and high standards for picking sites.
But, If you been able to get in, expect to get much exposure from this site it can be traffic shares and likes.
17. PDF and Document Sharing Sites

Document sharing websites are ideal for submitting a document, presentation, a product or service you have.
I'm not only talking about using them for traffic , but also getting nice back link from them.
It's easy to convert your article to .pdf format and share it.
Like Slideshare, there are few good document sharing sites:
Issuu
Issuu is a digital publishing platform to publish online magazines, catalogs, newspapers, books, and more.
With millions of monthly readers, I consider it as a very good option .
Slideshare
The popular site to share PowerPoint presentations, Word documents and Adobe pdf.
Scribd
A huge digital library and book subscription service with more than one million titles and more than 60 million documents .
Yudu
Publish your documents, upload audio, images and bookmark your favorites websites.
More sites in these category: SlideServe, Docstoc ,Calaméo ,Box.
18. Video marketing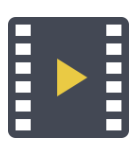 It's becoming popular for blogs to use video as inbound marketing strategies and I estimate this trend only to increase.
Here are 4 Video Marketing Statistics
• According to Forbes, 59% of executives would rather watch video than read text.
• According to Forrester Research it is 50x easier to achieve a page 1 ranking on Google with a video.
• 90% of information transmitted to the brain is visual , and visuals are processed 60,000 x faster in the brain than text
• Blog posts with video attract three times as many inbound links as blog posts without video
Ideas how to use video marketing
1) Videos types You can make
Content Videos: it can be newsletters and video blogs content wrapped into video format.
How To Video: tutorials for your product or service and how to solve a problem .
Trailer Videos: movie trailer videos for promoting books,products and services.
2) Micro videos
Make use of short videos of less than ten seconds what is called Micro video and share info on sites as Twitter ,Vine and Instagram.
Instagram allowing 3-15 seconds per video, Vine it would be 6 second-, try to keep these around 10 seconds.
3) Use Still content
Still shots, photographs and images are powerful than video for some content types.
You can covert your post into Still shots easily and market it.
4) Testimonials on video
Encourage your customers to give you a good feedback using their cameras and phones.
5) Use Video marketing tools
CamStudio Open source and Free Screen Recording Software
Wideo
Online video platform that allows you to easily create, edit, and share animated videos
Animoto
software that specializes in creating captivating videos from images and music
Slidely
create video slideshows or music videos from your existing photos, music or video clips.
Screenr
screen recorder, easily lets you record your screen and voice by simply hitting a button.
---
Wrapping up
Creating amazing content that don't reach to the right people, is of no use.
I know how much it can be frustrating, knowing you have something good not getting enough exposure.
I hope I was able to show you some new ways to push your content and to get traffic
Or was able to highlight points you didn't notice.
Let me know what you think and what worked for you in the comments section.