How to Grow Traffic on Your Blog or Website?
---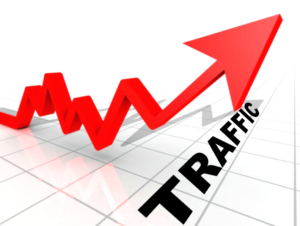 As owners of website, most of us feel that we do not get a level playing field as we cannot spend as much as some of our competitors. What can you do when you find that despite your best efforts, traffic to your website or blog is not growing as much as you would have liked?
Read on to learn some simple but effective ways to increase traffic to your website and to become wellness marketer. Try these time-tested ways to boost traffic on your website and see the difference.
Content is king
While search engine optimization is undoubtedly the number one exercise to send traffic to a website, it is the content that keeps driving visitors to a website. It has been seen that many websites lose out to competitors despite promoting a better quality product or service because they cannot compete in terms of churning out quality content regularly. You cannot mess up with content and keep it on the backburner for a long time if you are interested in increasing the number of visitors to your website. Make sure that information you provide is not only valuable for your readers, it is also not very common. Also, try to make your blog more interesting by adding relevant images and videos. This is because people love to browse images and videos when reading a blog post.
Write a Blog
We all seek a new ways to get more traffic to a website,  using the blog strategy this can be made easy and fun.
Blog writing is one of the most powerful advice we can give you. why blogs are so good for SEO and to expand website online visibility?
That is because every post is transformed into a web page that has keywords inside and becomes a new opportunity for you to rank on these words as well.
You should try and write fresh new content on your blog, the best is two or three times a week. this is hard to maintain, but you can start with a small blog and evolve this over time. hiring good blogger is also an option.
Make accounts for your business on all major social networks: Facebook, Twitter, Pinterest, LinkedIn and Instagram. Add buttons on your website or blog to allow readers to share a post with their friends. You will be surprised at the number of visitors that your website attracts through various social media platforms in addition to Google.
Become social and participate in other forums
Be involved in social forums that are related to your niche. Make it a habit to spend some time on various boards and forums and give comments and advice to other members. You may not think much of this strategy but you can certainly expect new visitors coming to your website from these boards and forums. if you can't do it yourself, there are people who specialize in forum commenting and you can hire their services at relatively low cost.
Build high quality Backlinks
High quality links pointing to your website will ensure that Google and other search engines start to think highly about your website. We will suggest few creative and non-usual ways to get authoritative high-quality Backlinks:
* Submit content to Audio Sharing Sites, create a piece of audio or music and upload it to an authoritative audio sharing site. As not many people are doing this, this is very useful to promote your website.
* Find the top blogs on your niches and comment there.
* Directory submission: links from the right directories can still do wonders for your site, some free ones to consider are: Directory World , So Much, R-TT Directory.
* Give Testimonials, Companies big and small love to show off their customer testimonials, by review their product you can put a backlink to your website.
* Another great one is using HARO ,short for Help a Reporter Out: All you need to do is sign up for their twice daily emails to receive queries from reporters looking for information to publish. If your contribution is good for the reporter's storyline, you may get a link to your website.
Have you submitted your link on bookmarking sites?
Book marking sites like Reddit and StumbleUpon are popular as users find many new interesting links whenever they are searching for them on these sites. If you submit your link and a user finds it interesting, it is likely to be shared by more and more users. This will give a lot of exposure to your website.
Make use of YouTube
Most website owners miss the trick and ignore YouTube from their marketing strategy. However, this is a blunder and they learn when they make a series of videos where they discuss their blog posts and upload them on YouTube. YouTube send many new visitors to websites that is a big bonus for the owners. When you make a video, do not forget to add link to your website in the description that is attached to the video.
Have better On-Page SEO
You must be better than your competitors and not neglect any of the on page activites.
Things like internal links, H tags, image Alt and meta tag data.
All can help you boost your organic traffic.
Paid advertising
Try paid advertising. However, as it involves your own money, make sure that you have compelling headlines to grab the attention of the reader. It has been found that nearly 80% of readers just go through the headline and never bother to read the rest of the advertisement. Keep on perfecting the headline so that your readers are compelled to go through the entire advertisement. You may also want to use paid traffic to enhance your websites with new visitors.
This is probably the easiest and fast way to get cheap traffic but also cost. therefore you still can use it but work on the other parts as well.
You don't want to totally depend on it, but it's highly available and legitimate way to get more visitors to a website.
Guest Blog
One of the fastest ways to grow your blog is by writing for other people's blogs
Find blog that is much bigger than yours and write an article for that blog.
Normal this will allow to includes a link to your site in your guest post bio.
This can result in a lot of traffic for you when others will click and come to visit your website.
Comment on other Blogs
highly authoritative blog can send you lots of traffic from the comment you post.
identify the top blogs in your niche and start interacting and commenting on blogs on a regular basis.
If you post good and to the point comment, this will be leading to more traffic for you