WordPress Best SEO Plugins That Will Rock Your Site: looking beyond Yoast
---

There are many posts about WordPress plugin for SEO.
I didn't want to make another one with all the familiar names and long features list, I was looking a bit over the corner to see some more.
For each add on, I wrote why you actually need it , focusing on the SEO usage along with what it has to offer.
Still, some known and familiar plugin are in the list, as they are good and deserve to be included.
I hope I'll be able to show you some SEO plugins you didn't notice, and highlight why they are good for seo.
My criteria for plugin selection:
1) Has to be free or at least freemium (free of charge, premium is charged for extra features)
2) Development and maintenance exist. This removed some good old Plugins with no continuation plans or hasn't been updated long time.
3) Used by many people (at least 100 active installs).
4) Plugin that I'm using or will be happy to use.
5) Has added value over other plug-in modules.
I relay like to get your comments, thoughts, hard points, etc!
Why WordPress
WordPress is an Open Source project, with a rich and easy to use blogging platform and website content management system (CMS).
Features that making it very popular to use by many bloggers, companies and website users around the world.
According to w3techs, WordPress is used by 58.7% of all the websites with content management system.
This is 25.3% of all websites exist.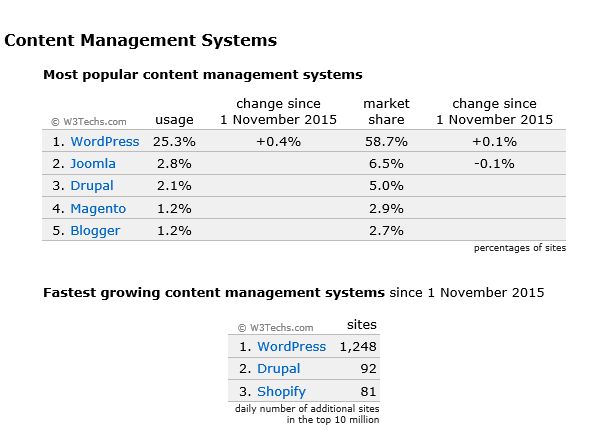 This plugin can help you generate ideas for your post. Just enter a few words and it will start offering keyword suggestions taken from autocomplete google, yahoo, bing. Use it to find long tail keywords. The addon will show on you post or page as widget. Hover on the suggested keyword and you can see option to use it as the title for your article or add it as a tag. The keywords data is coming from calls made to seowp.es.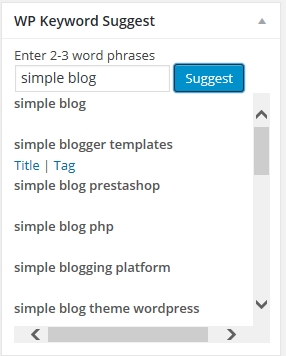 What are long tailed keywords?
Long tail keywords, are longer keyword (two-three and up) with more specific keyword phrases. Users with buy intention are using long and specific keywords in their searches. But, not only they. Many users today are getting more qualified using internet search technology while using longer and targeted keywords and this trend is only going to get stronger.
According to Moz, long tails are 80% more popular than top keywords.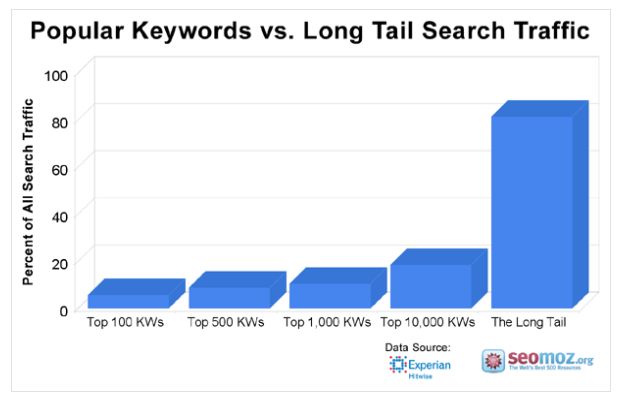 This is another keyword research addin that can grab auto-complete keywords using Google API. The same way as if you went to Google and start typing, Google will show some keyword suggestions before you hit enter. You need to know that too many requests may result in a temporary block from Google (just the suggestions service!) ,so use it properly.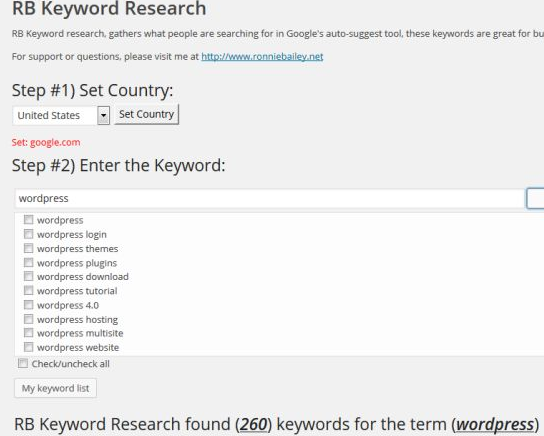 On Google's Suggestions
Where are Google's Suggestions are coming from ?
Google Suggest, also called "Autocomplete", are all based on real searches and come from how people actually search.
How to use them for SEO ?
• Titles and ideas for your articles
• Finding new long tail keywords
• See what others in your niche are looking for
• Looking for brands and services name variations
Schema.org is a body established by collaborating of the world's largest search engines: Bing, Google and Yahoo! with a purpose of creating a unified framework for structured data on the Internet. On-page markup helps search engines understand the information on web pages and provide richer search results. The structured data can be in different encodings, like: RDFa, Microdata and JSON-LD.
Schema.org wrote in their FAQ that Microdata format "seemed like a pragmatic decision at the time" , but that there are certain things that are much harder doing with Microdata format.
So, this format is still supported ,but it look like google is going in the direction of JSON-LD (since 2013). You can see they add more support for markup in the JSON-LD syntax with extended schema.org vocabulary. To test your markup data use the Rich Snippet Testing tool. Enter the page URL and click Fetch & validate , if the page has markup , you'll see results with indication for correct syntax or not.
What are Rich Snippets ?
Rich snippets are mark-up shown sometimes under search results. They are used to enhance the user experience providing more data pulled from the webpage. Here is a sample for snippet showing a Movie rating from user votes.


This plugin enables you to create schema.org microdata into WordPress post or page. The extension is mostly used to create rich snippets and supports the following schema types: Person, Product, Event, Organization, Movie, Book, Review, and Recipe.
One thing to You should know, the schema is being rendered on a post and it's not hidden- means every visitor see the snippet when he visit. They creators said this is according to google guidelines that rich data should been visible on the page.
This plugin implement structured data in JSON-LD syntax. It completes the Schema Creator by Raven that was mainly used for creation of rich snippets. As I said, Structured data markup is used by google to display rich-full Search Results.It can be Rich Snippets, Breadcrumbs, or a Sitelinks Search Box or Answers imported into Google's Knowledge Graph. Importing is limited to specific content and only if you have authority website. These Schema.org Type available with the add-on:
The plugin has option to display breadcrumbs by using the short code .
What are breadcrumbs ?
Breadcrumbs are navigation scheme elements showing user's location in a website. With breadcrumbs user know where they are in the website's hierarchy. The current location where the user is ,will be the most right with each link showing one level higher in hierarchy. This offers users a way to navigate back and forward easily for each hierarchy.


Two Common questions about markup data
Here are two common questions and answers I gave in quora regards markup.
How do microformats boost SEO?
Microformats like, rich snippets and other markup data, are placed in order to help search engines understand your website structure.
Adding markup, allows crawl spiders to identity regions from your page: Title, header, footer ,etc, Pull Organization and other public data
about your website and show rich snippets codes.
It also may help your click thru rate (CTR) to get higher, as some rich snippets are shown more Enhanced and are more attractive in the Search Results.
How long does it take for rich snippets to appear in search results?
Google does not guarantee that Rich Snippets will show up for search results from a particular site even if structured data is marked up and can be extracted successfully according to the testing tool.
Here are some reasons that marked-up pages might not be shown with Rich Snippets:
1. The marked-up structured data is not representative of the main content of the page or potentially misleading.
2.Marked-up data is incorrect in a way that the testing tool was not able to catch.
3.Marked-up content is hidden from the user.
4.The site has very few pages (or very few pages with marked-up structured data) and may not be picked up by Google's Rich Snippets system.
So, when my rich snippets will become visible?
Once you've marked up your site's content, Google will discover it the next time they crawl your site. even if google choose to display rich snippets for your site, it may take some time for them to appear in search results.
I wrote some more info about Using Schema markup netotraffic.com section #14
This plugin send 404 page not found error directly to page of your choice. It used to ensure that missing back links will not effected search engine ranking. You can select between 301 or 302 redirect.
What is 404 page?
The 404 page is a HTTP response code telling the user the page not exist. What is called a broken link. Search engines need to know what to do when they reach not exist page. The redirect helps them to figure this out and take the right action. A redirect causes the user's browser to move automatically from the old location to a new specified location.
301 redirect, is permanent and take the website visitor automatically to a new location.
302 redirect, is for making the move temporary (less recommended)
With this plugin, every broken link on your site will be redirected and it's good for both search engine ranking and visitors that clicked on non existing link.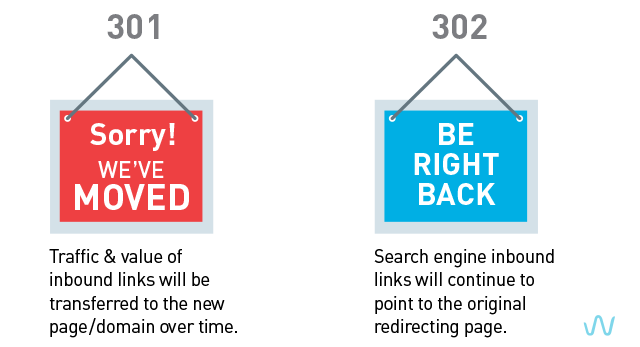 Image source criticone
With this plug-in module, it is easy to add the add rel="nofollow" attribute to link along with Title field.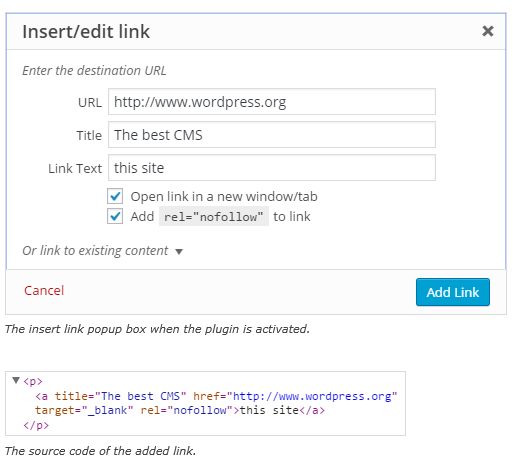 What is rel nofollow ?
A link can have some rel attributes like: author, stylesheet and nofollow. rel is short for relationship that a link has with a page that it points to. With "nofollow" you are telling the search engine "Don't follow this specific link."
when the search engine see this attribute, he does not transfer PageRank or anchor text across these links. This will not allow any follow of link juice to pass. More simpler, the power from the page /domain to the link, will not follow and will not effect a site ranking.
The reason for this attribute creation, was exploit of comment spam on blogs. Google was looking for a way to stop links in blog comments from passing credit. So, today most blog comments are with rel="nofollow" and this helps to fight spamming.
Below is a picture showing what is Title in a link. It will show up while moving your mouse over a link (hovering).



The Title attribute in not used in google ranking algorithm and it is more for user usability. Use it if you need to supply more information, but don't add it to all of your links, because the link anchor should give the most information.
Regular checking of broken links is good idea, there can be many reasons for that and sometime you'll be surprised to know you have a broken link. The addin checks your posts, pages, comments and other content for broken links and missing images, it automatically notify you if any are found, so you can fix those links. One downside of using this plugin, it requires many server resources and may slow down your host. To avoid this, change the default period for Existing links from 72 hours to longer time (like, twice a month) or run it on not busy days. If you have many posts, better to use an on line checker like deadlinkchecker
Why to check for broken links ?
You should Check Broken links, to avoid bad user experience and to prevent broken links from affecting your site SEO.
If crawler engine are getting 404 response searching you link, this can lower your ranking.
The plugin supports all kinds of WordPress generated pages as well as custom URLs. It'll notifies all major search engines every time you create a new post. To check for crawling statistic use Google/Bing Webmaster Tools.
Why do I need sitemap ?
Despite you don't have to, it's highly recommended having a site map in your web site.
A sitemap is a file that helps search engines understand your site organization and content better. It is a list of web pages exist on your site.
It makes the work of Search engine web crawlers easier while searching your website.
The sitemap can provide valuable metadata on your pages, like: when the page was last updated, how often the page is changed and more. You can provide more metadata about specific types of content as video, image, and mobile content.
This is one of my favorite's plugins. You can comment on blogs that has the plugin installed and It will allows you to add a Do follow link to your last blog post at the end of the comment. According to the creator, there are 700000 downloads and thousands of active blogs with plugin installed (30,000+ from wordpress.org). It's a great way to get quality backlinks from worth sites. In the pro version, you have more options available: adding your pages (not only posts), selecting your articles to comment, GASP for spam bots combating with trackback, add twitter username with your comment and more.
As you start typing your comments, a list of your recent blogs will appear and you can select one to include with your comments.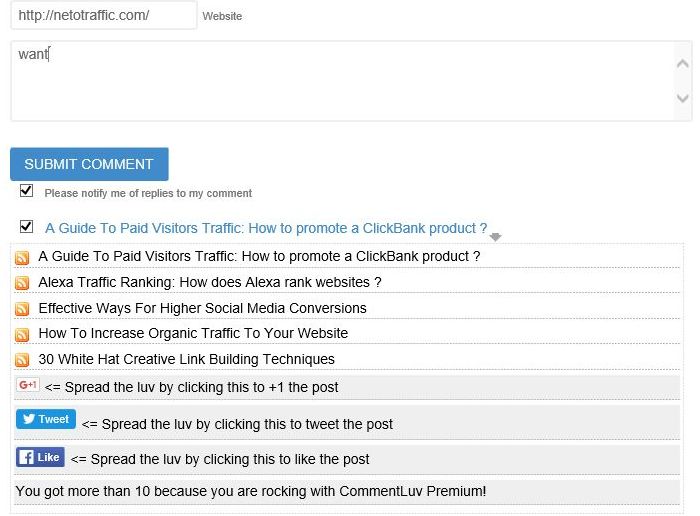 Here is the link after approved.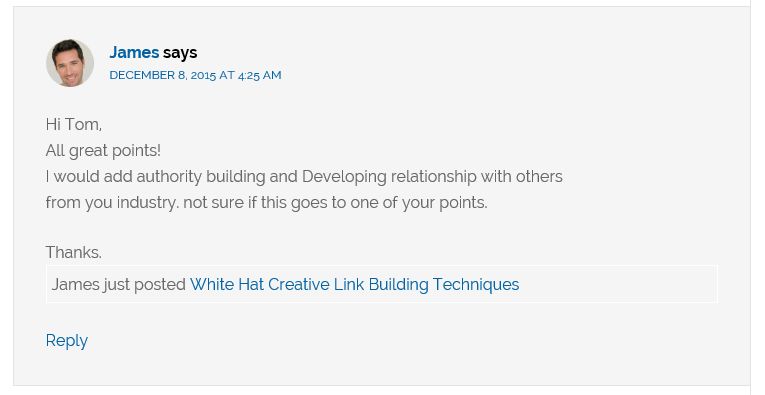 Notes
(1) Not all blog owners will let you link back to them automatically. For some it will require building relationship and putting few comments in their blog first (without link) to build a trust.
(2) Usually, you'll get a Do follow link only after 3 approved comments. Some Blogs set it higher (like 10 comments).
(3) Don't spam to get links! you can be banned from the blog.
(4) Here is a list of List of High PR CommentLuv Enabled Dofollow Blogs.
(5) I wrote more about this netotraffic in "creative link building techniques".
Images can be another source driving traffic to you site. Google images and others image search engines rank images according to the ALT attribute and relevancy. SEO Friendly Images automatically updates all images with proper ALT and TITLE attribute. it can be according to post title ,excerpt ,category ,tags.
The important image attributes
images has two important attributes: Alt and Title.
The Title show text in a tooltip when the mouse is over the image, this is more for visitors and not for seo.
The ALT attribute is important for search engine optimization as at used by search engines to find the best match.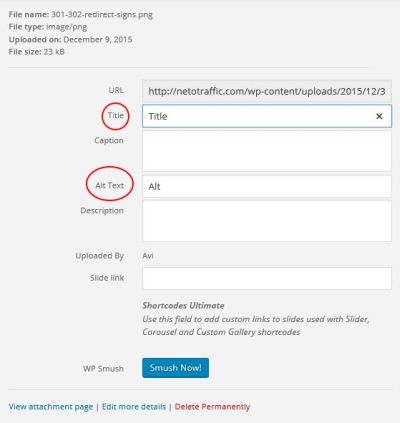 I suggest that you fill all of your images with these two attributes and don't leave them blank. Also, don't make the Alt and Title exactly the same. The ALT should describe the image for search engines, the title is to give additional information about the image (if necessary).
This extension is for optimizing images. It reduce images size by using compression and removing unnecessary colors. This will make your page smaller and as a result, it will load faster. The plugin use lossless compression, means you'll not see much changes in naked eye, because it saves the image important parameters and reconstructed it perfectly from the compressed data.


Why should I optimize my images ?
Images and multimedia can be large files which take much of the time a page is load.
Site speed has become important ranking signal both for desktop and mobile. I have seen great improvement in page loading time, just by reducing big images or replacing them. To evaluate your page speed, you can use PageSpeed Insights or gtmetrix.
Also for images ,Very popular plugin with over 200,000 active installs. Automatically optimize images as you upload them, as well for what you already have.It automatically convert your images to the most size compact format using lossless optimization for PNG and JPG images.
Use the Bulk option to optimize all your files at once. useful for existing blogs with a lots of images. For GRAND FlaGallery and NextGEN, two Officially supported galleries , the plug use their own Bulk Optimize pages.


The add-on creates calls to action (CTA) for your page. With it you can run A/B split tests, Track conversion rates, Create Popups Calls and multivariate split tests. You can also customize and create your own call to action designs.
There are some nice A/B testing ready to use out of the box : Ebook CTA, Call Out Box, Facebook Like Button,Twitter Follow to Download, Thumbnail Call To Action , Linkedin Share to Download and more.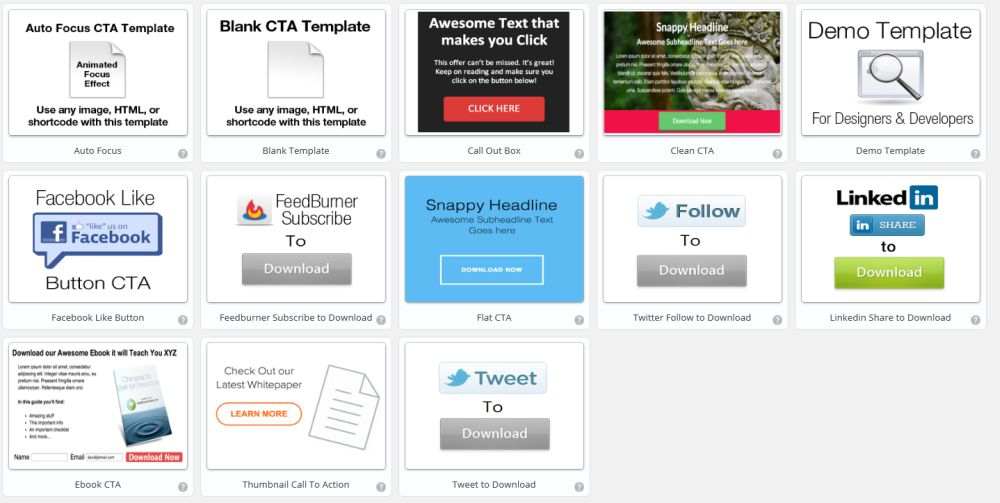 Here how it would like from WordPress. Each Variation has number of views and conversions, with Total Impressions, Conversions and Click through Rate for the CTA.


What is call to action & Quick check list for effective use
A call to action (CTA) can be anything that lead your website visitors to do something.
It can be click on image ,download an e-book, get a coupon, sign up for a news-taller, register to your blog, etc..
• Make an Eye Catching Design – you want people to notice it.
• Do Something people would like to act on- use words or offer something to make it work.
• Be clear on what you offer – Have a clear message about the CTA and what people will get from it.
• Make it relevant to the landing page- the action should be related to the page content.
17 Call-to-Action Examples You Can't Help But Click
A great plugin to displays Google Analytics reports in your WordPress dashboard.
Another one in my favorites list, 1+ Millions people are not wrong 🙂 ! easy to use and totally free. You can get many statistics:
• Sessions info , page views, organic searches,bounce rate analytics reports
• Visit Locations, pages, referrers, reports of keywords analytics
• Traffic channels ,social networks, traffic mediums, search engines analytics reports
• User access control over analytics reports
• Real time analytics
The plugin also inserts the Google Analytics tracking code into your pages.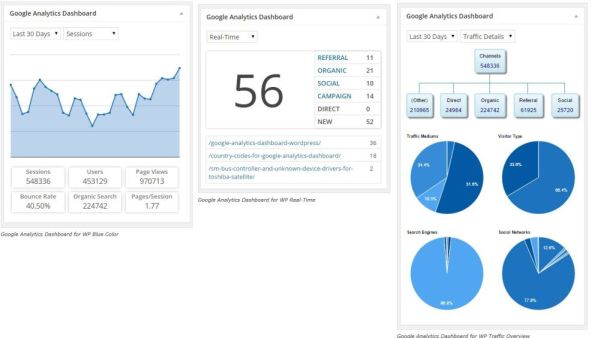 Things you can do with Google Analytics
• Find what people are most searching on your site
• know where your visitors are coming from
• Run campaigns to follow traffic and conversions
• Locate places on your pages where people click on the most
• Find what is your top content and what are your worst performing pages
• Learn about visits from mobile, specific device and the percentage
The Plugin lets you easily integrate Facebook Comments below the content of any post, page within your WordPress site. It will give a Facebook look to your blog Comments section and allows you to show Facebook comments on your WordPress site.
You need to enter Facebook App ID, this is done easily from the plugin Setup.

An easy to use extension. A toolbar with most popular social networking and bookmarking sites (Facebook Share, Facebook Like, Twitter, Pinterest, Google+,..)
Kind of plugin that's a must have for every website. not need to create an account, but you can get some more customization if going pro.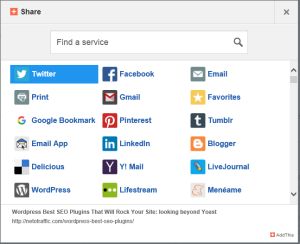 5 Facts About Social Media in 2015
(1) Facebook beats YouTube at video views
(2) Tumblr is growing faster than any other social network
(3) Instagram has more active users than Twitter
(4) There are over 2.08 billion active social media accounts (and only 7.1 billion people in the world!)
(5) Social commerce is changing the way we buy things
source web.com
This plugin turn your comments into Comments pages, so that Google can access to all of your users comments and index them.
You need to activate the plugin and set up a WordPress template to output your new SEO comments pages. This is in order to allow the new comments to the outputted. The benefit is off course, option to get traffic coming from your users comments.
Why To use this Plugin?
Well, the truth is I was not sure if to include this add on or not. After all, if you have good and long content, you probably don't need it. But, for those who look for extra data sources or if you run quality blog with many people questions and replies, You might use comments as additional source of data for you blog. It should be very relevant and extends issues on the main post.
What about improving your content a bit? Word Stats is a nice add-on that show statistics on keyword in your post. these are:
Word count, showing Color coded readability tests for: Coleman-Liau Index (CLI), Automated Readability Index (ARI) and LIX, Total number of characters, alphanumeric characters count, words and sentences, your dominant keywords count , Characters per word, per sentence, words per sentence.


Good to follow when using Word Stats
• Write at least 2000 words. it has prove that long content ranks better.
• ARI and CLI are the U.S. grade level of the text. the recommended writing level: 7-8, depending on your audience.
• For LIX try keep it 25-40.
below 25: Children's Books
25 – 30: Simple texts
30 – 40: Normal Text / Fiction
40 – 50: Factual information, such as Wikipedia
50 – 60: Technical texts
over 60: Specialist texts / research / dissertations
• Locate your top keywords- check for overused words and if these words are what you want to include.
• Rough estimation of text ratio to code to is: (alphanumeric characters/ characters) .make it high, at least 0.6
This plugin is intend to improve user experience and page speed by using caching. The add on has caching options for: browser, page, object, database, minify and content delivery network (CDN). With impressive number of downloads: 1+ million. Before running Google's speed test, make sure you use some cache plugin.
General note when using cache, sometimes you need to clear it in order for updates to be shown on your pages (usually, the plug-in does it automatically). A plugin that comes with many options, best to leave it if you not sure and use the defaults. Or use expert for fine tuning website performance.
Why speed is important?
I already said that site speed is important ranking signal. but, not only that- users also don't like slow sites.
• 40% of people abandon a website that takes more than 3 seconds to load.
• 47% of consumers expect a web page to load in 2 seconds or less
• A 1 second delay in page response can result in a 7% reduction in conversions
• If an e-commerce site is making $100,000 per day, a 1 second page delay could potentially cost you $2.5 million in lost sales every year.
source kissmetrics
Some terms used in Performance Optimization
Cache: store of data for future requests. this can speed performance and speed, as a copy ready to use of your website will be show to user from memory and not having to make another access to the server.
Content Delivery Network (CDN): A system of servers (network) that deliver Web content to a user based on his geographic location.
For example, if user comes from Asia to my website and my server is in USA, it will much faster for him to get my page from Asian server.
Basically, that's what CDN does. the network has copies of my website in servers all around the world. It selects the nearest server to the user location to get my website pages content.
Minification: the process of removing all unnecessary characters from source code without changing its functionality.
in order to increase speed, the add-on (with minify option set) will remove some characters from html, css and javascript files.
the result will be lighter page which loads faster. be careful, not always the minify works well and can cause display problems.
Plug in that display a list of related posts on your website and in your feed.The list is based on the content of the title and/or content of the posts that are more relevant and more likely to be of interest to your readers. The add on can help you in trying to keep your visitors from leaving, to reduce bounce rate and also to offer your archive pages old post to visitors.
About bounce rate
A bounce rate measure the parentage of visitors that leave your website after viewing only one page.
Few reason you want to have a lower bounce rate:
• The more people are exposed to your content, there is better changes they will be converted into subscribers ,customers or clients.
• A rising bounce rate is a sign for boring or not relevant page.
• Bounce rate is important signal used by google deciding if to sent traffic to your site.
All in one SEO Plugins
As I imply in the beginning, I'm not going to write much about the familiar ones, you can get all data from other places.
Nerveless, I will mention shortly two very good and popular extensions.
WordPress SEO by Yoast
One of the best seo plugins with over 1 million Active Installs. It has almost all (here are few features):
• Check for title length
• Control meta description
• Tag and custom taxonomy archives
• Build XML Sitemaps
• Optimize RSS
• Use of Breadcrumbs
• Edit your .htaccess and robots.txt file
• Social Integration
Another very good addon is All in One SEO Pack (what we use here in neto).
WordPress SEO vs All in One SEO Pack: Which Is The Best SEO Plugin?
Squirrly is all in one plugin that has some unique features.
It can help you write a content well optimized for SEO as you're typing your articles. In your post, All green lights are on when your text is 100% optimized for SEO. If you had previously installed plugins such as Yoast or All In One SEO, these setting will be kept and will not be overriding by the add-on. You can find Keywords, get headline suggestions based on your write and Topic, add snippet for article and preview them, Analyse your posts and more. A very useful feature is weekly site audit to locate seo issues and to get advices on how to resolve them.
Should I optimized my content for SEO ?
I find people asking this question many times- is it good idea to optimize my writing? The big fear, is off course Google will catch it up and will punish you for over optimizing. Well, as long as you write long and good content on a subject, most changes are that you'll not need that.
Writing naturally and thoughtfully about a subject, will include all the important phrases by itself. As the phrase says, write for humans and not for search engines. My advice, after you finish your writing, you can review and tweek keywords that you indented to rank for. This will also leave you more time to focus on your writing.
With more than 100 million monthly active users (MAUs) and one of the fastest growing social network, Pinterest is a great platform to drive traffic to your website.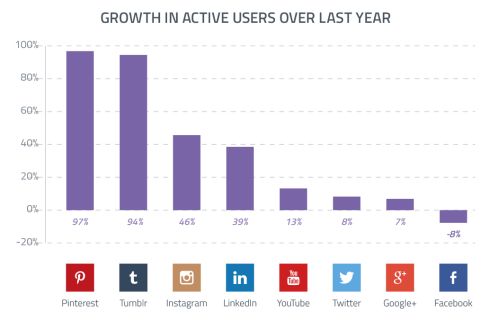 The add on will show Pinterest "Pin It" Button to enable your site visitors to pin the image while they hover it. This is good and easy way to get more Pinterest pins from users surfing your site and reading your posts.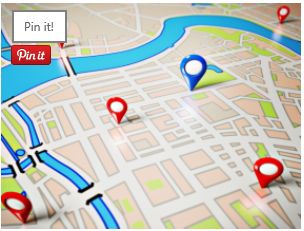 Triberr is a community build from groups called Tribes. Each tribe has people who write about the same topic.
These are usually Bloggers and other influences .Once you join a tribe you start following on others posts and can share yours.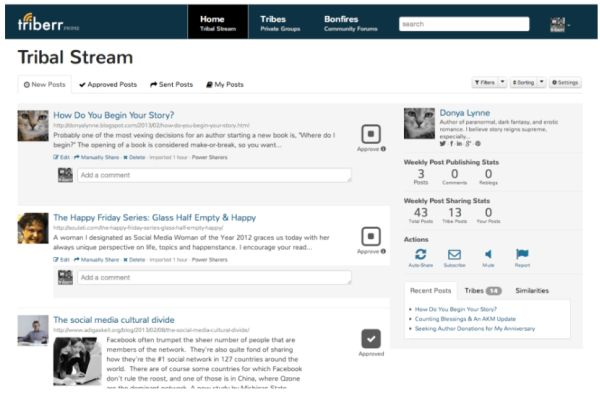 You can share posts, comment and engage with tribe members. The tribe Chief can promote you to a full fledged tribe member where
your posts will appear in the Tribal Stream.The stream posts are switched every 15 minutes by default.
The site also allow video posts, featured post (paid) and RSS feeds. It has same principles of other communities as karma,followers and votes.
The plugin sends your WordPress posts to your Triberr stream automatically to encourage sharing by other tribe members.
You can use it to Increase traffic to your blog by increasing the exposure your posts get.
Want to encourage people to tweet your content from the post?
With this tool, you can create beautiful "Click To Tweet" boxes anywhere in your blog post.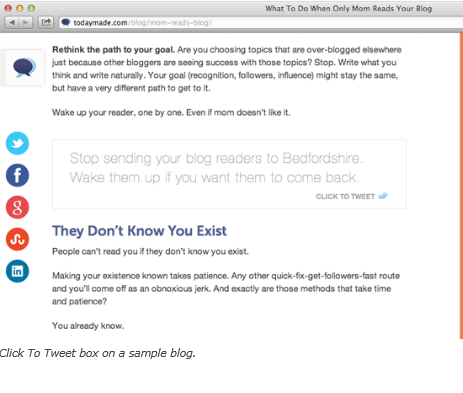 The tweetable content can be any custom message inside the body of your post you want to highlight.
This is one Add-on you don't want to miss!
This one enables you to shorten links using your own domain name , and without using other link shrinking service prefix.
It can track hits on your URL and provide a full detailed report of where the hit came from, ip address, unique hits per link, the browser, OS and host. You can use it to cloak links, auto-tweet links and replace keywords though out your blog with short links.
For instance if you have the URL: http://blairwilliams.com/my-book-download
You be able to shrink it to: http://blairwilliams.com/mb and to use it in your post or on social networking.
The good think is you get the clicks number and have other nice statistics about users Beauvoir.
But, don't use it for your posts, shrinking them may be bad for your Seo, you want to keep the post name with few targeted keywords.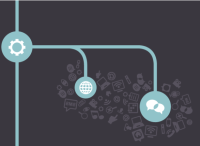 This plugin uses a unique algorithm to display a list of related posts, giving readers the option to visit related content before leaving.
The basic version has the features
• Thumbnail or list view display
• Templating system with advanced control on display
• Customizable algorithm to set content display
• Display related posts in RSS feeds
In the YARPP Pro version, you can display sponsored content, promote your product or service on thousands of blogs and websites and more.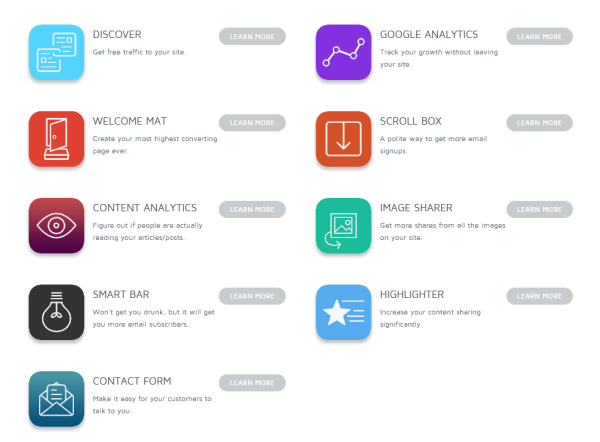 Sumome offers a collection of free tools (more features are paid) that can help you grow your website's traffic.
Register for free from their site, and you be able to install the wordpress plugin directly into your WP account.
Some tools are a real catch and easy to use. let's take a closer look at them.
Discover
You get connected with 150,000+ other SumoMe sites to promote your content on their sites, and you promote new content for your visitors on your site.
By featuring your articles on your sites , you earn credits when people click on Discover links at the ends of your articles.
Than you use these credits to get more traffic from other people's sites.
Welcome Mat
displays a full-screen call to action that shows when visitors land on your site. Encourage your visitors to join your email list, check out your popular blog post,etc.
Content Analytics
Content Analytics gives you a visual display of exactly where people stop reading your blog posts.
you can move your calls to action to the right places, adjust your copy so people consume all of it, or cut sections which may be unnecessary.
Smart Bar
The Bar helps you get more people to join your email list, more people to click out to your Call To Action, and more people to follow you on Twitter and like you on Facebook
Contact Form
Create a Contact Form and customize them.
Google Analytics
See your site's stats on each of your pages, find most popular pages , see exactly how your site is doing: pageviews, users, session duration, bounce rate, and more. With one click, track your performance today, in the past week, month, or whenever.
Scroll Box
A customize Scroll Box to pop up when your visitors are half-way down your page.
Image Sharer
Allow visitors to share you images when they hover over your images. It can be in Facebook, Twitter, Pinterest, or Yummly
Highlighter
Make it easy for yiur visitors to highlight and share any part of your articles. They just have to highlight the text and then choose to share it on Facebook or Twitter.
This is amazing plugin that does many things and you surely want to install it.
It can help to secure you site from hackers attacks, speed it up , help you to get more traffic, add sharing buttons to you posts,
view your visitors statistics and much more.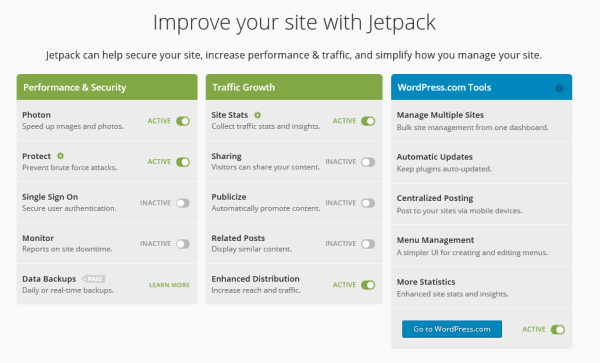 Here is something I use almost every day, at a glance I'm able to see –
site stats for visitors, top posts, referrers, search engines terms and clicks .

More cool features
• Photon is a free CDN (content delivery network) plugin inside jetpack, that cache your images and serves them fast to users from WordPress.com content delivery network.
• Carousel – galleries for images to use in your posts
• Publicize- Automatically share your posts on popular social media networks.
• Beautiful Math: combines the power of LaTeX to add complex mathematical equations, formulas, etc.
• Comments: enables your visitors to use their WordPress.com, Twitter, or Facebook accounts when commenting on your site.
• Contact Form -customized contact form (pass through Akismet)
• Shortcode Embeds- embed media from other places in your site with simple line code. Like: YouTube, Flickr, and other media.
Take a look at the whole feature list in the Setting tab.
James's choice
 Here are my selection for Top plugins:
Title and Nofollow For Links
CommentLuv
EWWW Image Optimizer
Share Buttons by AddThis
W3 Total Cache
Yet Another Related Posts Plugin
Sumome
Jetpack
Wrapping up
WordPress is maybe the best CMS exist today for websites. SEO is evolving and will continue to do so, as google and other search engines are updating their algorithms all the time. With WordPress use, it is easy to keep the face and take advantages it has when it comes to Plugin.