9 Ways To Make Money Blogging
---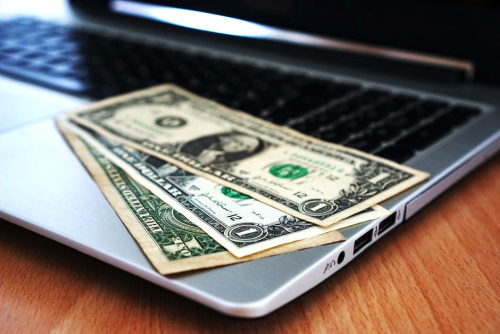 You probably have seen a lot of ads on your social media accounts regarding bloggers and their stories on how they left their 8 to 5 jobs, started a blog, started working as a digital nomad and been their boss. Their source of income is their blog.
Is it really possible to get paid for writing a blog? The answer is yes. One can make money out of blogging but it's not that easy and it takes a lot of time and effort to turn a blog into a money making scheme.
Why do people blog? People have different purposes in blogging.
Blogging started out as a personal hobby for some to be able to write about their passion or express their thoughts in writing.
It's an online journal where someone can write about anything and can choose to either share it to the public or set it to private.
Some entrepreneurs and business-minded people saw blogging as an opportunity to earn money and turn it into a business.
That's when people started using their blogs as a money-making scheme and blogging gained more popularity.
How Does One Make Money out of Blogging?
Once you decide to use your existing blog or create a new blog to make money, you become an entrepreneur and not just simply a blogger.
Your blog is turned into a small business.
If you wish to earn money out of your blog, use your blog as a lead generation mechanism.
Take good care of your leads until your loyal customers are ready to purchase. That's when you will start earning money from your blog.
Building a Money-Generating Blog
1. Build Content and Generate Traffic
A blog is not a blog without its content. The content gives life to a blog, It is the foundation of your blog.
The phrase content is the king is not just a saying, but an important concept in digital marketing.
The content of a blog is based on your specific business interest and your target market.
There are numerous guides on the internet on creating great content, but the most important thing is that you put your heart into it and you care about what you are doing.
The content of your blog should be of a high-quality standard.
Otherwise, people will ignore your blog and go for similar blogs that have a better content quality.
The subject matter of your blog should be something interesting enough to catch the attention of your readers and for them to share it with others.
Make sure that you use layman's terms and that your visitors will be able to easily grasp and digest the content.
You need to set a regular schedule for releasing the content of your blog.
It takes time to build the foundation of your blog but once you have built a solid foundation, you will need to allure people to check out your blog or what we call "traffic generation".
To promote your blog and drive visitors, you will need to perform critical analysis, marketing, SEO, social media, and networking.
These are some of the methods in which you can promote your blog to other people and generate traffic:
• By word of mouth
Use your network of family and friends and tell them about your blog and encourage them to visit it.
• Guest posting
Have other blogs or websites mention your blog.
You can do guest posts or even trade with other blogs or websites for links.
Establish an online presence on forums and groups to make other people want to check your blog.
• Social media marketing
Build followers on popular social media sites like Facebook, Instagram, Twitter, and Pinterest and get them to visit your blog.
Social media is of great value to your blog because it lets users share or repost content quickly.
• Email marketing
Some people may think that this is old school but this can still be an effective way to reach out to potential visitors. It still works its magic especially for people who don't often check their personal social media accounts. Just make sure that your email campaign is precise, simple, engaging, and it includes a strong call to action.
• SEO or Search Engine Optimization
Create your blog and its contents in such a way that it will lead to a higher ranking in search engine results.
These are the different ways to drive traffic to your blog and there isn't a single strategy that is more effective than the other.
You need to find the best method that works for you.
The most important thing is to create great content and use different strategies in order to get as many visitors to visit your blog.
Creating a blog takes time and you can't especially post different content all in one go.
You have to work hard for it until you build a consistent audience that you can eventually use to help you in your efforts in generating money through your blog.
2. Sell Ads
This is one of the oldest tricks in generating money through your blog which you probably see all the time on the internet.
Once you have established your blog and you have the traffic, you can insert ads from sponsors.
The ads can be seen either at the bottom of the page, as a sidebar banner, or as small pop-ins.
You can charge a fixed amount for running an ad for a specific time frame.
It's direct and it gives you an overview of how much you will be receiving on a regular basis.
Another way is to do a pay-per-click or pay-per-visitor model.
You get paid based on the number of people that visit your blog and see or click the ads.
You can get a lot of money once you drive a lot of traffic but you won't get much if you get lesser visitors or if the number of visitors declines.
Look for potential advertisers who would be interesting in getting an ad space in your blog.
Create a summary about your blog including the information about your audience and a proposal for prospective sponsors.
The kit should include basic information on the audience of your website such as the total number of visitors, the location, gender, and age breakdown of your visitors, etc.
You can get this information by using certain tools that can help you analyze the visitors of your blog.
Once you have proven that you have traffic and the right amount of visitors visiting your blog to make the investment of the advertisers worth it, you need to show them where you are planning to put the ads on your blog.
Send your kit with a solid proposal explaining why they should trust you in exposing their products or services through ads on your blog.
Be direct and upfront to your targets and show data that prove your claims.
To save you time and effort, you can also opt to sell ads using Google AdSense.
In this way, Google is the one choosing the brands that will be displayed as ads on your blog.
Simply get a code from Google and put it in the exact location in your blog where you want the ads to be.
Google will take care of the rest and will be the one to look for significant ads, You'll get paid for every click on an ad.
3. Engage in Paid Posts, Affiliate Marketing, and Native Advertising
These are other ways of generating money through your blogs if the ads won't work.
To become an affiliate, look for products that you enjoy or that may be related to your blog.
Simply promote these products and/or services on your blog and slip an affiliate link into your posts where you discuss them.
You get a commission when visitors of your blog click the affiliate link and make a purchase.
Native advertising and paid posts mean that an advertiser pays you to feature its products or services on your blog.
Once a visitor surfs in the advertiser site he can click on a link to visit your site or buy a product.
This is a very natural way to get more visitors from other sites to yours.
4. Create Ebooks
Ebooks can be easy and fun to make and one of the more common digital products available today.
With ebooks, the writing options are wide and can range from reports, product reviews, guides to science fiction, literature, and prose.
If your site is popular enough, people will start downloading these ebooks and be willing to pay.
You can give them a free peep into the ebook content and charge for the whole book.
For creating a more rich and professional ebook you'll need graphics tools as canva and more aids.
5. Set up a Paywall
In this case, you will be selling your content instead of a product or service.
You can choose certain segments in your blog that is only visible to visitors who pay a fee in order to access it (aka Paywall).
Another option is to collect a subscription fee to be collected on a monthly basis from users who would be interested in accessing your content.
6. Sell Online Courses
An online course is a good way to increase your product line and to make money online.
You'll need to select a topic that your good in or something that you can explain well to others.
The possibilities are endless and you can get tons of ideas from sites like udemy.
After you have an idea and enough materials start creating lessons from them while including slides, videos, checklist, and other learning aids.
Now it's time to place the course In your site and start selling it.
You can make a free version that invites people to see what is in the course and later to sell the whole course to users who are willing to fully pay for it. Building one course at a time can make an entire library of courses over time where you can sell in other places as well.
7. Offer Freelance Services
Many bloggers are actually experts on what they do, so why not offering this expertise to other people?
You can make money from freelancing to your website audience helping them to solve problems and getting help.
This is Just like big sites as Fiverr and freelancer do, but without paying for the negotiation.
As a freelancer you'll need to use some online tools, here Is a list of Best Tools for Freelancers
8. Ask For Donations
If you are able to create good quality content and drive excellent traffic, you can politely ask your audience to donate money to support you and your work in order to continue bringing them the things that they adore about your site.
9. Sell your Blog
Build a blog and sell it for a lump sum.
There are a lot of businesses and entrepreneurs who are looking for blogs or websites with steady streams of visitors that they can use to their advantage. Just like how you entice advertisers to sell ad space on your blog, you also need to convince entrepreneurs and businesses that your blog is worth investing in because of its quality content and traffic.
Flippa is an excellent place to buy or sell digital assets ass website and online businesses.